Walter D. Connor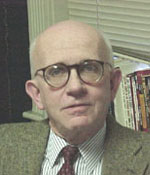 Professor
Office: PLS 211-212
Phone: 617.353.7003
E-mail: wdconnor@bu.edu
Education: B.A., Holy Cross; M.A., Ph.D., Princeton University
Areas of Specialization: Comparative Politics, International Relations, Soviet and Post-Soviet Politics.
Professor Connor has authored or co-authored/edited seven books — among them: The Accidental Proletariat (1991), The Polish Road from Socialism (1993), and Tattered Banners: Labor, Conflict and Corporatism in Post Communist Russia (1996). Professor Connor has written a host of scholarly articles and bookchapters on Russian and Eastern European politics and society. On the University of Michigan faculty 1968-76, he then served as Director of Soviet and East European Studies at the Foreign Service Institute at the US State Department from 1976 to 1984. The winner of a Guggenheim Fellowship and the state department's Meritorious Honor Award, he also holds appointments in the Sociology Department and the Department of International Relations.
Professor Connor regularly teaches the following courses:
Soviet Politics 1917-1991 (PO 363)
Politics of Post-Communist Russia (PO 364)
Russian and Post-Soviet Foreign Relations (PO 375)
Soviet and Post-Soviet Society (SO 326)
Current Positions held:
Professor of Political Science, Sociology, and International Relations, Boston University
Fellow, Davis Center for Russian and Eurasian Studies, Harvard University
Additional information:
Curriculum Vitae