Edouard Bustin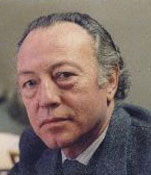 Professor Emeritus

Office: ASC 407
Phone: 617.353.7307
E-mail: ebustin@bu.edu
Education: Lic. Sc. Diplom.,Doct. Droit, University of Liege, Belgium
Areas of Specialization: Comparative Politics, African Studies, International Relations.
Professor Bustin has authored or co-authored several books and monographs dealing with Africa, including Lunda Under Belgian Rule; The Politics of Ethnicity. He has also written many book chapters, encyclopedia entries, journal entries and articles (mostly on Africa) which have been published in the United States, Europe and Africa. He has studied and lived in five European and twelve African countries and is fluent in French, Spanish, Italian and German. Professor Bustin has been a visiting professor or guest lecturer at universities in the United States, Europe, Africa, and the Caribbean. He has also consulted and prepared reports on higher education and on democratization in Zaire for the Rockefeller Foundation and for USAID. Professor Bustin is the founder and director of the Francophone Africa Research Group (GRAF), and serves as coordinator for the exchange agreement between Boston University and the Institut d'Etudes Politiques at Bordeaux. He is also affiliated with Boston University's African Studies Center and heads the Francophone Africa Research Group (GRAF).
Professor Bustin regularly taught the following courses:
The Politics of Race and Ethnicity (PO 351)
Government and Politics of Contemporary Africa (PO 565)
Political Systems of Southern Africa (PO 566)
Problems and Issues of Contemporary African (PO 760)
Africa in International Relations (PO/IR 776)
Politics of French-speaking Africa (PO 866)
For more information:
Curriculum Vitae
Publications
Francophone Africa Research Group (GRAF)