Ronan Noone
Adjunct Assistant Professor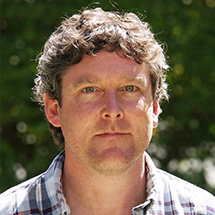 RONAN NOONE's The Second Girl is the winner of the inaugural Association for Theatre in Higher Education (ATHE) Excellence in Playwriting Award, 2015. Additional plays include: The Athiest, Brendan, Scenes From an Adultery, The Baile Trilogy (The Lepers of Baile Baiste, The Blowin' of Baile Gall, The Gigolo of Baile Breag), The Compass Rose, Little Black Dress, and A Small Death. The themes that run through Ronan's work are immigration, dispossession, misanthropes, issues of social conscience, and the ability of a character to survive difficult and fascinating circumstances. He believes in playing with ways to tell a good story, a necessary story that tells us who we are, where we've been and where we are going. He believes in stories that resonate beyond the theatre's door and that add ideas to the national conversation. He believes in the playwright as thinker.
His play The Atheist played at the Huntington Theatre Company, Boston, and the Williamstown Theatre Festival. It was also co-produced by The Culture Project and Ted Mann's Circle in the Square productions in New York, and received both Drama Desk and Drama League Acting nominations. Other recent international productions have taken place in the UK (London and Edinburgh), Spain, Canada, the Philippines, and Ireland. His full-length and one-act plays are published by Samuel French, Smith and Kraus, Baker Plays, and Dramatists Play Service. Awards include: Jeff recommendations in Chicago; Ovation recommendations in Los Angeles; Critics Award in Austin, Texas; American Critics Steinberg New Play Award nomination; nomination for best play at 1st Irish Festival New York; three Independent Reviewers of New England (IRNE) Awards for Best New Play; the Boston Theatre Critics Association's Elliot Norton Outstanding Script Award; a Kennedy Center National Playwriting Award; and a 2014 Edgerton New American Play Award. His essay on theatre, "Being Afraid to Breathe," is published by the Princeton University Library Chronicle LXVIII, and his plays have been featured in books on Irish Studies, such as Anail an Bheil Bheo: Orality and Modern Irish Culture and Sinead Moynihan's Other People's Diasporas. He has attended the Sundance Theatre Workshop and developed work at New York Stage and Film, The Orchard Project, The Lark Theatre and Theresa Rebeck's Vermont Writer's Retreat, American Conservatory Theatre (ACT) in San Francisco, and The Hermitage Artist Retreat in Florida.
He is Artistic Associate at the Vineyard Playhouse on Martha's Vineyard. Noone has also developed work for television with Pretty Matches Productions and the reality TV-based production company High Noon Entertainment. His 2014 Live Action Short The Accident (based on his short play I Glue You) has played the Boston International Film Festival and the Montclair Film Festival.
After studying politics and mathematics at University in Galway (NUIG), Ireland, Ronan began his writing career with a Postgraduate Diploma in Journalism. He wrote for various newspapers in Ireland with a small stint in Prague. After an editor told him his writing was de-constructive and did not meet the formula for a newspaper, he wrote his first play. Later, he immigrated to America and submitted that play to Boston Playwrights' Theatre and studied with Noble Laureate Derek Walcott. There he understood that deconstruction wasn't a bad word and for a play to develop you needed the support, belief, and resources of a theatre community behind you. As a teacher, Ronan guides student writers to search for the beating heart in their work, to critique with care, to rewrite using the pen as a scalpel, and to read and reread all the plays they can get their hands on. Learn more