Ronan Noone
Adjunct Assistant Professor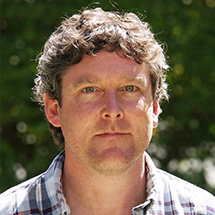 RONAN NOONE emigrated from Ireland in 1994 and earned his master's degree in playwriting at Boston University. His first play, The Lepers of Baile Baiste, was workshopped with Nobel Prize winner Derek Walcott at Boston Playwrights' Theatre, was a Nicholl's semifinalist, and went on to win the National Playwriting Award at the American College Theatre Festival. It was produced at the Kennedy Center in Washington, DC, and had its professional premiere in Boston with Sugan Theatre Company. It became a Boston Globe Critic's Pick and went on to win the Independent Reviewers of New England (IRNE) Award for Best Play. It played in Chicago; at the Celtic Arts Center in Los Angeles, where it was a Los Angeles Times Critic's Pick; and at New York's Phil Bosakowski Theatre. His second play, The Blowin of Baile Gall, opened at Boston Playwrights' Theatre and had its off-Broadway debut (Gabriel Byrne, producer) at the Irish Arts Center in New York in 2005. The play had been previously nominated by the American Theatre Critics Association for the Steinberg New Play Award and won the Elliot Norton Award for Outstanding New Script.
Noone was chosen by Boston Magazine as the Best Young Playwright for 2003, and in July 2003 he was commissioned as a playwriting fellow by the Huntington Theatre Company under the Stanford Calderwood Fund for New American Plays. Brendan (IRNE Award for Best New Play) had its world premiere at the Huntington Theatre in the fall of 2007. His monologue play, The Atheist, opened with Chris Pine in 2006; followed by Campbell Scott playing the role at the Williamstown Theatre Festival in 2008; and was coproduced by The Culture Project and Ted Mann's, Circle in the Square productions at the Barrow Street Theatre in October 2008. Other recent productions have taken place in LA, Chicago, London, and the Philippines.
Noone has also developed work for television with Sarah Jessica Parker's Pretty Matches Productions, and with reality TV–based productions, High Noon Entertainment. His short plays The Mutton Bandit Molloy and Headbanger are published by Baker's Plays and Smith & Kraus, respectively. His full-length plays are published by Samuel French, Dramatists Play Service, and his essay on theatre, "Being Afraid to Breathe," is published by Princeton University Library Chronicle, Vol.  LXVIII. His play Little Black Dress was produced by the Exchange Theatre at Theatre at St. Clement's, NYC, in the spring of 2011. Noone recently workshopped his latest play The Second Girl at American Conservatory Theatre in San Francisco and Brendan has its West Coast premiere in Los Angeles this summer at Theatre Banshee. He will open another new play, The Compass Rose, in New York in September. Visit RonanNoone.com.