Dan Hunter
Lecturer in Playwriting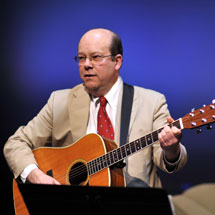 DAN HUNTER is a playwright, songwriter, teacher and founding partner of Hunter Higgs, LLC, an advocacy and communications firm. Hunter is the inventor of H-IQ, the first assessment of individual imagination and ideation, available on line at www.hunter-iq.com. He is the co-author with Dr. Rex Jung and Ranee Flores of A New Measure of Imagination Ability: Anatomical Brain Imaging Correlates published March 22, 2016 in The Frontiers of Psychology, an international peer-reviewed journal.
Hunter's latest book of humor, Iowa?…It's a State of Mind, was published in 2011 joining his two other books of humor, Let's Keep Des Moines a Private Joke, and The Search for Iowa (& We Don't Grow Potatoes). He worked for many years as a singer/songwriter and humorist known for songs like "Walkin' Beans," "$15 Beans," and "Please Don't Burn Perry Como."
He has written several other plays including Un Tango en La Noche (winner of a national Kennedy Center award) and La Mujer Sin Cara (The Woman Without a Face). His play The Monkey King was a finalist for the 2004 Heideman Award from the Actors Theatre of Louisville. Hunter's play, Red Elm, was produced to critical acclaim in December 2005 at the Boston Playwrights' Theatre.
His newest play, Legally Dead, was produced at Boston Playwrights' Theatre in February 2013. The comedy was called "uproarious" by The Boston Globe and played to packed houses.
He is the former executive director of the Massachusetts Advocates for the Arts, Sciences, and Humanities (MAASH) a statewide advocacy and education group. An award-winning playwright, songwriter and humorist, Hunter also has 25 years' experience in politics and arts advocacy, serving as Director of the Iowa Department of Cultural Affairs (a cabinet appointment requiring Senate confirmation) and running a successful advertising and political consultancy firm in Des Moines.
Hunter was managing director of Boston Playwrights' Theatre at Boston University from 1999 to 2002. He has taught playwriting at Boston University since then and has had one-act plays published by Baker's Plays, including Mirror Man, Internal Medicine, and The Monkey King. He is the composer and writer of Picture Postcard Musicale, based on the texts of picture postcards from 1906 to 1910. Hunter has performed a one-man show of topical humor in original song, and he has made numerous radio and television appearances, including on ABC's Good Morning America, National Public Radio, BBC, and CNN Nightly News.
On his departure from his position as director of the Iowa Department of Cultural Affairs, the Des Moines Register wrote in an editorial: "[Hunter] instilled a renewed vigor in a neglected area of state government. He made people think about art as a way of life…He was able to hopscotch across the state with a message, not from a bureaucrat, but from someone intimately involved with the arts, someone who understands the nuances of the arts community and of those who support the arts."
From 1980 to 1997, Hunter owned and operated Dan Hunter Creative Services. He earned his BA from Hampshire College in Amherst, and his MA from Boston University. In August 2005, he also received an honorary doctorate of humane letters from Goucher College in Baltimore. The Massachusetts Association of Arts Educators named Hunter the Friend of Arts Education for 2010. Hunter also worked as a political consultant and served in the Iowa Governor's cabinet as Director of the Iowa Department of Cultural Affairs.