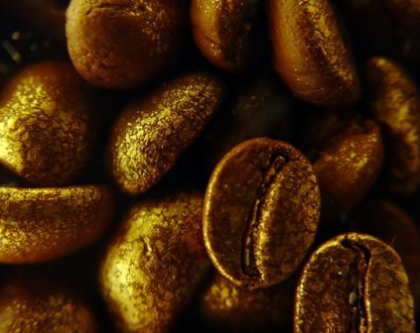 11/16/2006
Black Gold Brews up Big Pot of Guilt
By Molly Wetterschneider
Black Gold opens with loud slurping. Gustatory experts at an international tasting event bend over rows of coffee urns and, with extreme concentration, delicately sip from tiny sample cups and diligently record notes on brew quality. Cut to a lush Ethiopian landscape, less black and gold and more green and brown, as the luckiest young members of a coffee farming community trudge through muddy roads and past verdant plantations to an open-air schoolhouse with dirt for a floor and a flimsy scrap of slate for a chalkboard. The stark contrast of these two scenes in the first feature-length documentary by brothers Nick and Marc Francis will wake you up faster than a quadruple shot of espresso. Yet, while Black Gold certainly brews up some sympathy for the plight of the Ethiopian coffee farmer, the filmmakers fail to percolate any ideas on how viewers can address the problem.
Black Gold's oxymoronic title promises and delivers a montage of arresting contrasts. The film follows Tadesse Meskela, a spokesperson and salesman for an Ethiopian coffee farmer's cooperative, who travels from town to town, convincing farmers not to undersell their goods and roasters not to overlook his organization's quality product. Interspersed between scenes of Tadesse rallying, educating, and promoting his destitute farmers is footage of frenetic coffee-themed events, including a world barista championship complete with jumbotron and snooty panel of distinguished latte judges. Later, we visit an Ethiopian famine center where earnest aide workers carefully weigh a crying child who they later deny help for not being malnourished enough. With little time to recover, we go to a roasting factory in which juggernaut machinery spits ground coffee into large metal cans like black gun powder into bomb shells.
While the contrasting scenes are interwoven into a surprisingly fast-paced film about the coffee trade, the filmmakers never clearly establish a solid connection between the coffee grower and the end-user. The documentary presents only two sides of a multifaceted issue: poor Ethiopian coffee farmers can't survive in today's global market and people in the rest of the world sure drink a lot of coffee. It's never clear where all the stimulated coffee fiends who appear in the film are getting their beans, but one thing is certain—they aren't buying enough of them from Ethiopian coffee farmers.
Viewers get little insight into who is actually to blame for the disconnect between the staggering price of a macchiato and the diminutive wages of the original cultivator. The socially conscious dilettante might point to a certain easy target in the American coffee marketplace—Starbucks. And, that chain's only voice in the film is that of a young store manager, who wears periwinkle eye shadow and says of her job, "It's been the most special thing ever!" But, her valley girl effusiveness is hardly proof that her employer is responsible. We certainly can't fault the film makers for getting the brush-off from the bigwigs of Big Coffee, who very likely rule the world's $80-billion coffee market by buying their products from competitive large-scale bidders and not the hard-working, small-scale farmer. Yet, we never hear from organizations or even individuals who do drink "green" beans—fair-trade coffee that's sold with the welfare of the farmers in mind.
If seeing Black Gold inspires you to dig up the true roots of your own personal stash of name-brand beans, be prepared for confusion. The movie's official website, advertised at the end of the film, directs visitors to the website of Oxfam America. Searching on the Oxfam site for a safe place to buy fair-trade coffee yields a list of big-name coffee pushers, most noticeably Starbucks. Not such a clear message. So, what's a socially conscious latte addict to do? Quit drinking coffee? Buy a ticket to Ethiopia to do some java shopping in person? It's hard to say, but maybe you'll have a better idea after you toss back an overpriced grande Americano. But, be sure to leave plenty of room for cream and sugar. You'll need it to cover up the gloomy taste of malnourished Ethiopian children, because after this film, you'll always associate their starvation with your caffeination.