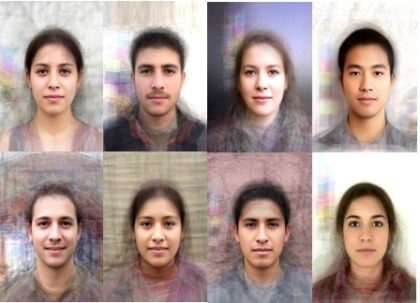 10/23/2006
The Beauty Math: Average Is Attractive
Beauty may not actually be in the eye of the beholder. While long considered a slave to cultural whims, beauty may be less arbitrary than people thought. Assessments of facial attractiveness do not vary significantly across cultures, and even adults and infants find the same faces attractive. Clearly something beyond just culture is driving our perceptions of beauty.
There are a number of hypotheses on why we find certain faces attractive. A new study published last month in the journal Psychological Science, offered a new explanation why average faces (mathematically average, not average-looking) are judged more attractive. The researchers, Piotr Winkielman of the University of California, San Diego and Jamin Halberstadt of University of Otago in New Zealand, said that we prefer average faces because they are closer to our mental prototype of a face. In other words, average faces are more "face-like."
Winkielman and Halberstadt believe that prototypes are rated more attractive because they are easier for the brain to process. When we are exposed to a new face, for example, our brain takes notice and stores the face away for later use. As we encounter more faces, the brain creates a "face" category and tries to find commonalities or similar patterns between the faces in the category. These patterns become the basis of the face prototype.
The closer a face is to the prototype, the faster it is processed. Winkielman believes this faster processing is the reason more prototypical items, including faces, receive a more positive assessment. The brain gives itself a pat on the back for quickly detecting a pattern among the faces. "It's good to make order out of chaos. The brain rewards itself for finding something meaningful," he said.
Preferences for prototypes apply not only to faces. Prototypes of other categories—fish, shoes, trees, patterns of dots—are rated as more attractive than outliers. Halberstadt says this indicates that a preference for average faces is not an adaptive trait, as previous research has suggested.
Evolutionary biologists have proposed that a preference for average faces has evolved because it is a good indicator of the quality of a potential mate. For example, some propose that people with more average faces have a more diverse gene pool that would enable them to more readily fight off disease. But so far evidence that attractive people are healthier remains controversial.
If Winkielman and Halberstadt are correct, then beauty depends on what kind of faces you are exposed to. "In places like London or New York, your category is wider," because you are exposed to a wider variety of people, Winkielman said. "But in places with separation of ethnicities, a multiracial face might look weird."
Winkielman pointed out that people often say that they find exotic faces more attractive, though the data suggests the people prefer average faces. "Prototypes are not exciting. They are extraordinary because they are so well balanced, but they are not intriguing," he said.