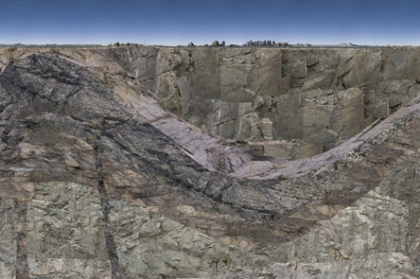 10/04/2006
Unveiling the Underground
By Kirk Fernandes
Jonathon Wells flips through a portfolio of the dozen or so photographic collages he's created in the last four years. He stops on an image of Boston. Unlike other landscape depictions of the city, his "lens" focuses not on what's above ground, but what's below it. The Boston skyline, which occupies a narrow strip at the top of the canvas, is dwarfed by the expanse of rocky geology underground. It's as if he sliced the Earth in half and took a photograph of the cross-section from Quincy to Stoneham -- sixteen miles wide, four miles deep. "The general public doesn't have a sense of what's going on in the subsurface," he says.
Wells is one of a slew of photographers whose work was featured in a benefit auction Thursday, Oct. 5 at the Photographic Resource Center at Boston University. "I definitely consider him an emerging photographer," says PRC curator Leslie Brown. "I'm not the only one who's responding to his work. He's building up his resume, and it's hitting a chord."
In some ways, Wells' photographs are natural extensions of the more than ten years of work he's done as an environmental consultant investigating groundwater contamination. One of his first photographic collages, "Former Town Dump," shows a cross-section of the earth under a garbage pit. After analyzing underground data from the site, Wells was able to depict the areas where contaminants were leaching into the substrate and aquifer. He took the same diagrammatic approach in two other projects with similarly blunt titles -- "Gasoline Station" and "Automobile Undercoating Shop."
Each collage takes about six months to complete. Much of the work comes in the research phase, as Wells strives for accuracy by studying maps of the subsurface to identify key elements of the geology. He fills his underground landscape with images of matching rock types that he has photographed in areas where they're exposed above ground. He'll often spend his days on the road looking for the perfect outcrop of Cambridge Argillite or Westboro Quartzite.
More than a dozen galleries have displayed his unique vision of the subsurface, but his proudest moment in the art world to date is being named a finalist in the Massachusetts Cultural Council's Artist Grants Program. He's hoping now to reach a broader audience because he has more to say about geology, pollution, and conservation. "We live in a fairly advanced, materialistic world with a lot of luxuries and all of this comes at a cost," says Wells. "A lot of that cost is absorbed by the Earth."
A rural upbringing inspired Wells' affinity for the natural environment. He spent his childhood on a farm in Shrewsbury, Vermont – a small town tucked in among rolling hills, surrounded by thick forest. Even at a young age, he would scan the landscape with a visual appreciation and awe greater than his years. He fondly recalls summer camps in the Adirondacks and repeated excursions to beaver ponds in the upland valley near his home, all the while describing a "connection" to the natural world on which he thrives and wants to communicate to others.
The BU geology graduate is focused on building a larger collection on a wider variety of underground subjects. His latest undertaking is a project to depict the subsurface surrounding a Pennsylvania mine. He's also planning a trip to Ecuador – where recent volcanic activity provides scientific and artistic inspiration. "I'm trying to make this work as a profession," he says. "I'm starting to feel like I'm an artist who's also a scientist."