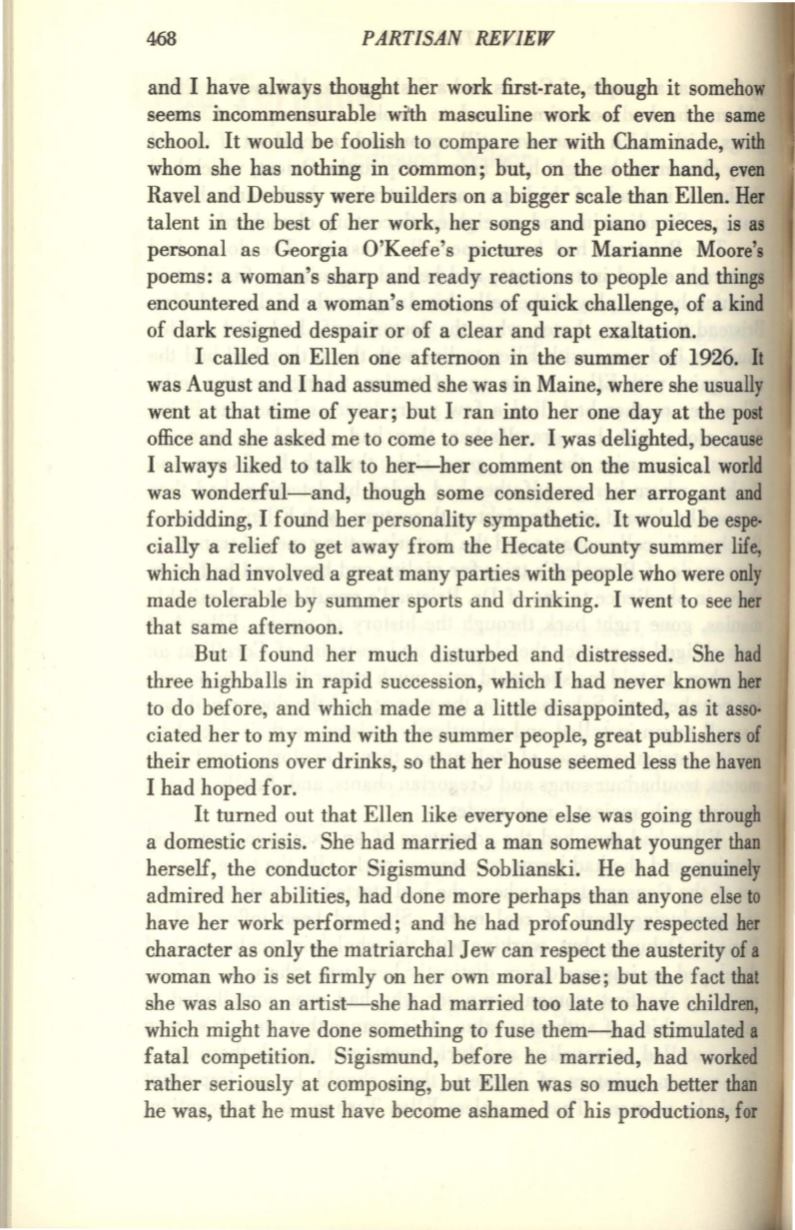 PARTISAN REVIEW
and I have always thought her work first-rate, though it somehow
seems incommensurable with masculine work of even the same
school. It would be foolish to compare her with Chaminade,
whom she has nothing in common; but, on the other hand, even
Ravel and Debussy were builders on a bigger scale than Ellen.
talent in the best of her work, her songs and piano pieces, is as
personal as Georgia O'Keefe's pictures or Marianne Moore's
poems: a woman's sharp and ready reactions to people and things
encounte,red and a woman's emotions of quick challenge, of a kind
of dark resigned despair or of a clear and rapt exaltation.
I called on Ellen one afternoon in the summer of 1926. It
was August and I had assumed she was in Maine, where she usually
went at that time of year; but I ran into her one day at the post
office and she asked me to come to see her. I was delighted, because
I always liked to talk to her-her comment on the musical world
was wonderful-and, though some considered her arrogant and
forbidding, I found her personality sympathetic. It would be espe–
cially a relief to get away from the Hecate County summer life,
which had involved a great many parties with people who were only
made tolerable by summer sports and drinking. I went to see her
But I found her much disturbed and distressed. She had
three highballs in rapid succession, which I had never known her
to do before, and which made me a little disappointed, as it asso–
ciated her to my mind with the summer people, great publishers of
their emotions over drinks, so that her house seemed less the haven
It turned out that Ellen like everyone else was going through
a domestic crisis. She had married a man somewhat younger than
herself, the conductor Sigismund Soblianski. He had genuinely
admired her abilities, had done more perhaps than anyone else to
have her work performed; and he had profoundly respected her
character as only the matriarchal Jew can respect the austerity of a
woman who is set firmly on her own moral base; but the fact that
she was also an artist-she had married too late to have children,
which might have done something to fuse them-had stimulated a
fatal competition. Sigismund, before he married, had worked
rather seriously at composing, but Ellen was so much better than
he was, that he must have become ashamed of his productions, for