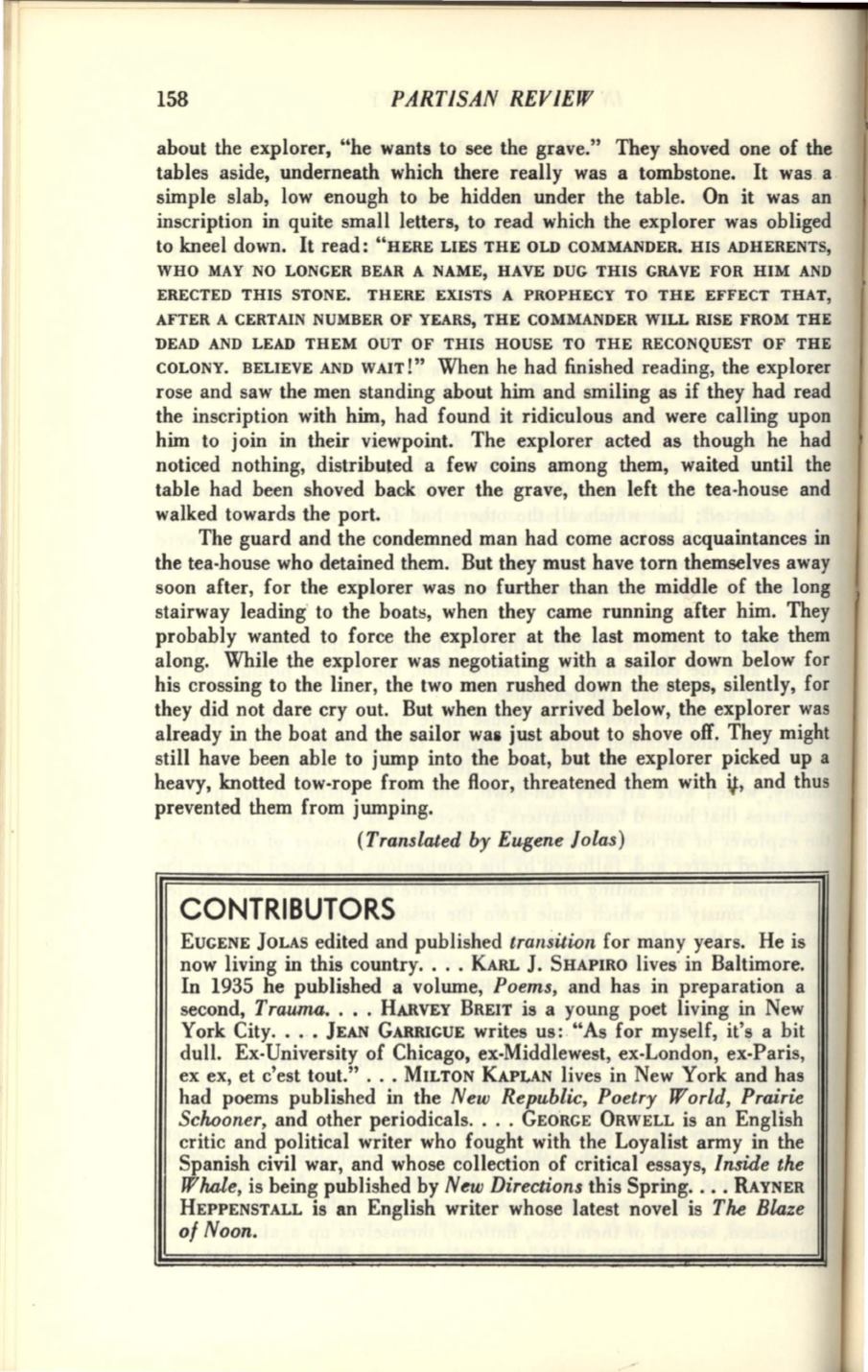 PARTISAN REVIEW
about the explorer, "he wants to see the grave." They shoved one of the
tables aside, underneath which there really was a tombstone. It was a
simple slab, low enough to
hidden under the table. On it was an
inscription in quite small letters, to read which the explorer was obliged
read: "HERE LIES THE OLD COMMANDER. HIS ADHERENTS,
WHO MAY NO LONGER BEAR A NAME, HAVE DUG THIS GRAVE FOR HIM AND
ERECTED THIS STONE. THERE EXISTS A PROPHECY TO THE EFFECT THAT,
AFTER A CERTAIN NUMBER OF YEARS, THE COMMANDER WILL RISE FROM THE
DEAD AND LEAD THEM OUT OF THIS HOUSE TO THE RECONQUEST OF THE
COLONY. BELIEVE AND WAIT!" When he had finished reading, the explorer
rose and saw the men standing about him and smiling as if they had read
the inscription with him, had found it ridiculous and were calling upon
him to join in their viewpoint. The explorer acted as though he had
noticed nothing, distributed a few coins among them, waited until the
table had been shoved back over the grave, then left the tea-house and
The guard and the condemned man had come across acquaintances in
the tea-house who detained them. But they must have torn themselves away
soon after, for the explorer was no further than the middle of the long
stairway leading· to the boats, when they came running after him. They
probably wanted to force the explorer at the last moment to take them
along. While the explorer was negotiating with a sailor down below for
his crossing to the liner, the two men rushed down the steps, silently, for
they did not dare cry out. But when they arrived below, the explorer was
already in the boat and the sailor wa11 just about to shove off. They might
still have been able to jump into the boat, but the explorer picked up a
heavy, knotted tow-rope from the floor, threatened them with
prevented them from jumping.
(Translated by Eugene /olas)
CONTRIBUTORS
EuGENE ]OLAS edited and published
transition
now living in this country.... KARL
].
SHAPIRO lives in Baltimore.
In 1935 he published a volume,
Poems,
Trauma.
HARVEY BREIT is a young poet living in New
York City.... JEAN GARRIGUE writes us: "As for myself, it's a bit
dull. Ex-University of Chicago, ex-Middlewest, ex-London, ex-Paris,
ex ex, et c'est tout." ... MILTON KAPLAN lives in New York and has
had poems published in the
New Republic, Poetry World, Prairie
Schooner,
and other periodicals.... GEO.RGE ORWELL is an English
critic and political writer who fought with the Loyalist army in the
Spanish civil war, and whose collection of critical essays,
Inside the
Whale,
New Directions
HEPPENSTALL is an English writer whose latest novel is
The Blaze
of Noon.