Get Involved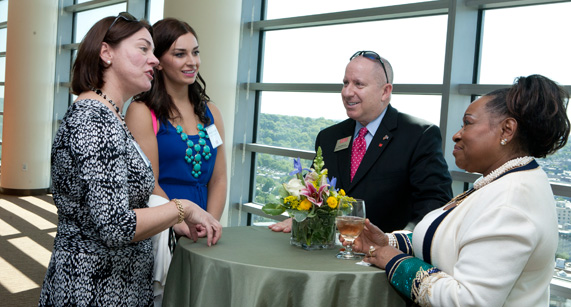 There are lots of great ways to get involved with the Parents Program at Boston University. We want you to become involved, to be an active member of the BU community.
Please consider joining the Parents Leadership Council (PLC). The Council represents the parent constituency, to further the engagement of parents, to better support them, and ultimately, to help parents guide their students to having the best possible BU experience. The PLC meets twice a year-in the fall prior to Family and Friends Weekend and in the spring, prior to the end of the semester.
You might also consider becoming a Parent Ambassador. There will be opportunities to support students on Alternative Service Breaks (ASB) by providing home cooked meals, gift cards, even places to stay as students provide community service throughout the country. Ambassadors are also asked to volunteer at Summer Orientation Sessions, and to support BU athletic teams.
Members of the Parents Leadership Council as well as Parent Ambassadors also volunteer to host Summer Send-off events to welcome incoming BU students and their parents, guardians, and family members to the BU community prior to the beginning of the school year.