Parent Magazine
Students Driving Discoveries
From designing stroke-therapy apps to mapping the Milky Way, BU undergraduates perform groundbreaking research.
By Lara Ehrlich (UNI'03)
Above photo by Kalman Zabarsky
Every 45 seconds, someone in the United States suffers a stroke. Many survivors struggle with everyday activities that used to be second nature, like walking and speaking. For Abriella Stone (CAS'14), working in the Aphasia Research Laboratory at Boston University Sargent College was a chance to help. Together with Associate Professor of Speech, Language & Hearing Sciences Swathi Kiran, she helped design an interactive iPad application for the treatment of aphasia, a language disorder caused by a stroke or head injury. The severity of the disorder ranges from difficulty remembering words to full loss of language, and patients often require more treatment than is covered by their insurance. Kiran's app, Constant Therapy, gives patients the ability to continue their treatment at home. "They can just wake up and press the start button," Stone says.
A Distinguished Program, an Elite Honor
Stone participated in the development of Constant Therapy through the Undergraduate Research Opportunities Program (UROP), which provides students with the chance to assist BU faculty with their research. UROP is open to all full-time undergraduates, and a student may participate as a volunteer, for academic credit, or as a funded research assistant. And the openings are expanding: funding for UROP doubled in 2012, to more than $1 million. UROP and BU's other leading-edge programs achieved national recognition in 2012 when the University was invited to join the Association of American Universities (AAU), a nonprofit organization of U.S. and Canadian universities at the research vanguard. BU is the 62nd member of the group, which includes only Harvard, MIT, and Brandeis in the Boston area, and one of just four universities invited to join the AAU since 2000. "AAU universities play an essential role in America's research enterprise and in educating the nation's young scientists, engineers, and scholars," said AAU President Hunter Rawlings III in an interview with BU Today announcing BU's membership. "Boston University is a welcome addition to the ranks of these leading research universities."
In 2012, more than 240 young scientists, engineers, and scholars contributed to BU's pioneering research through UROP projects that ranged from investigating whether or not individual clownfish exhibit personality traits to studying the biomechanics of running. UROP participants find the experience helps hone their academic and professional interests, either through research that introduces them to new fields—as happened for Stone, a chemistry major—or in projects related to their majors. "My mindset is to try everything," says astrophysics major Ian Santagata (CAS'13), who helped Dan Clemens, professor of astronomy, determine the distance to unclassified stars in the Milky Way. "After UROP, I know what I do want to do a little bit better. I don't want to do research on a computer. I'd much rather be at an observatory or working with NASA to do something more hands-on. UROP led me to the belief that I might want to become an aeronautical or astronomical engineer."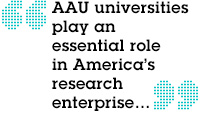 Santagata will also be included as a coauthor on a manuscript that Clemens's team is preparing for submission to the Astrophysical Journal. Like Santagata, many students emerge from UROP with prestigious publishing credits, which "give them a leg up in graduate school applications," says Thomas Gilmore, director of UROP and professor of biology. "Graduate schools like to see that students have done undergraduate research, and UROP helps students to get a foothold in their careers. Instead of sitting in a classroom and hearing about a subject, they get a chance to do something creative. It's a career-determining event for many students."
A Whole New Language
UROP was pivotal for Stone, who had never taken a Sargent College class before her work on the aphasia app. She found Kiran's research while searching the UROP website for summer positions. "I learned about aphasia in one of my freshman psychology classes," Stone says. "I'm interested in psychology and clinical work, so I thought working in the aphasia lab would be a good experience." Her first task was to scour the literature on aphasia treatment for exercises that could be integrated with an iPad app. "In the beginning, I was very intimidated because I didn't know anything about this field of study. When reading the research articles, I'd have to look up a word every few paragraphs. It was almost like learning a whole new language."
Stone developed drills to help patients reconnect everyday items with their names and sounds. In a section dedicated to rhyming, for instance, one exercise displays an image of a cherry and the question: "Does this rhyme with merry?" Patients may listen to audio clips of the text, and then click the answer "Yes" or "No." Stone gathered all of the elements—the images, text, and audio clips—for thousands of words into a spreadsheet that also indicated how Constant Therapy would adapt to an individual's development. "For spelling, for example, we ranked the words so that they were easy, medium, or hard as the patient progresses; we can challenge him and give him harder words. When we finished the spreadsheet for one section, we sent it to the programmer and went on to the next section."
The Power of the App
Twenty-five patients from Sargent's Aphasia Research Laboratory have been using Constant Therapy on a trial basis since October 2012, and "they see the power of it already," Kiran says. "We can tweak the therapy based on what they want and need, and the app gives them control over their therapy because they can log in and practice." The clinician can also access the program remotely to check on a patient's progress and adjust the therapy. "I think it gets patients a little more excited about their treatment because they're having fun with it," Stone says. "They really like being able to see their progress."
The app is available for subscription-based download on iTunes, and Kiran and Stone hope it will have even farther-reaching influence. The idea is for patients eventually to use the app as a social media device to communicate with other patients. "We are constantly connected to our friends and the larger world," Kiran says. "These individuals don't have any way to connect with other people, so the goal is for this app to become social, as well as clinical."
Stone was gratified to have played a role in developing Constant Therapy, and credits UROP with refining her academic career. "I might switch to psychology, even though I'm so into chemistry," she says. "I really liked the clinical aspect and working not only for patients but on a team. It was rewarding to get together once a week with everyone who was working in the lab and to see the patients make progress because of something we produced."