Parent Magazine
Community—and Pancake—Central
For the University's Jewish students, it's a religious home and community center; for everyone else, Hillel is a great place to grab a pre-exam pancake.
By Chelsea B. Sheasley (COM'13)
Cake decorating contest photo by Vernon Doucette
Between its potato pancake fest, Latkepalooza, and breakfast eatery-inspired JHOP event, Boston University's largest student organization gives out a lot of home-style comfort foods.
Hillel is the center of religious and community life for much of BU's Jewish population. The self-described "Jewish student union" is based at the Florence & Chafetz Hillel House, a modern brick-and-glass, four-story building on Bay State Road overlooking the Charles River. It's a gathering point for Jewish students on campus, providing kosher dining facilities and religious services for Conservative, Orthodox, Reform, and Sephardic Jews, who all together make up roughly 10 percent of BU's student body.
According to its long-serving director, Rabbi Joseph Polak (Hon.'95)—he's entering his 43rd year with the organization—Hillel plays many roles on campus, including that of a service agency and a Jewish community center. It is a "university community where people care about each other," he says.
Connecting to Other Cultures
At any one time, Hillel House is home to more than 30 different student groups, open to all, that cover everything from a cappella, dance, and theater to community service and politics. On top of that, a student board plans hundreds of social events per year.
"It's really great because you would think that it's very sheltering, that you only meet other Jewish students, but that's 100 percent not the case," says Joel Udwin (SMG'14), the current president of the student board. Hillel House, he says, "Allows me to fulfill what I need for my culture and my religion, while also being exposed to other cultures and other peoples."
In February 2012, the Hillel student board cosponsored a comedy show with Umoja, BU's black student union, that addressed respective stereotypes. Hillel has also teamed up with fraternities and sororities for community service projects and formed the Ken-Si Collaborative (the words for "yes" in Hebrew and Spanish) with Latinos on campus to explore opportunities for collaboration and support.
3,000 Pancakes, Two Hours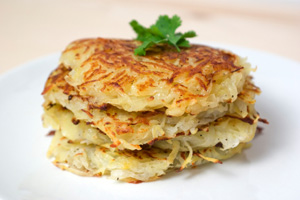 A central component of Hillel House is reaching out to others off campus, too. Each year, the house hosts two mitzvah days, where the entire day is devoted to community service in the metro Boston area. Other Jewish students in Boston are also invited to use Hillel House's facilities, and many come for kosher meals or Friday night Shabbat dinners. During the Jewish high holidays, attendance numbers are in the thousands, says Polak.
Two of the most popular events that bring people to Hillel House are Latkepalooza and JHOP. Latkepalooza is a party that happens every year close to Hanukkah, when latkes (potato pancakes) are a traditional dish. It draws hundreds of students for latkes, music, and celebration. "We have over 700 students, Jewish, non-Jewish, some eating latkes for the first time," says Udwin. "We're playing Israeli music; we're eating our latkes; it's a great time."
JHOP, modeled after IHOP (International House of Pancakes), the popular restaurant, is a breakfast hosted by Hillel the week before exams. In 2012, it went through 3,000 pancakes in two hours.
Questioning Values
The layout of the house itself is designed to bring people together. Study pods with comfy couches and tables are scattered throughout the building and a lounge features two flat-screen TVs and pool, Ping-Pong, and foosball tables.
"The number of people who use the building to study, hang out, or crash after class is in the hundreds," says Polak.
Rabbi Polak teaches Torah classes and preaches, but all the services are student-led. "We are not a clergy-led religion," he says. Part of his job, though, is to serve as a mentor to students, and he interacts with them often.
"He's someone who you can always go and speak to. He's very, very available," says Udwin. "He really cares about what's going on."
"Interacting with people is one of the best parts of what I do," Polak says. Sometimes he has to "shake people up and have them question values, where they're coming from. It's my job, what I like to do."
Hillel has a website just for parents—www.bu.edu/hillel/parents—with FAQs, newsletters, and opportunities to get involved.