Parent Magazine
Class Gift Campaign 2012
If the Class of 2012 reaches its goal of 2,012 donors, one lucky student will throw out the first pitch at a Red Sox game.
By Chris Kramer (CAS'11, GRS'11)
Last year, Dean of Students Kenn Elmore offered to don a tuxedo and jump into the Charles River if the Class of 2011 met its Class Gift fundraising goal. They met the goal, and Elmore jumped.
This year, the University is offering a chance to throw out the first pitch at the May 15 home game of the Boston Red Sox to students who donate. If the Class of 2012 meets its goal of 2,012 donors, a student donor will be selected randomly during Senior Breakfast for the honor of stepping to the Fenway Park pitcher's mound, accompanied by BU's mascot, Rhett.
What is the Class Gift Campaign? Chris Kramer (CAS'11, GRS'11), cochair of the 2011 Class Gift Committee, shares his thoughts:
"Each year, members of BU's graduating class join together in support of our alma mater by donating to the Class Gift Campaign. The many resources, experiences, and opportunities that shaped our time at Boston University were all made possible by the generosity of those who came before us; the Class Gift is our chance to ensure that those experiences continue to be available to new students for years to come. Participating in the Class Gift Campaign is the first step toward being an active member of the BU alumni community.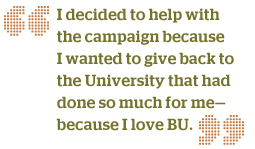 Last year, the Boston University Class of 2011 made history with big changes in the Class Gift Campaign, which resulted in record-shattering success in participation and fundraising, and for which I had the honor of serving as a cochair with my fellow senior, Taylor Riley (SHA'11, SMG'11). I decided to help with the campaign because I wanted to give back to the University that had done so much for me—because I love BU. I saw the Class Gift as an opportunity to make a significant and lasting impact on our University, in spite of the fact that I could not make a large monetary donation.
Support for our campaign came from across campus: students, faculty, staff, administration, and alumni (that's right, alumni are still an integral part of our campus community) all came together to realize our collective goal. Dean of Students Kenn Elmore even jumped into the Charles River to show his support of our campaign.
Class Gift participants can designate gifts to an individual school or college, athletics, scholarships, student life (which includes student organizations), or the area of greatest need. Students also have the opportunity to honor a mentor when they give to the Class Gift Campaign. Like many fellow seniors, I donated $20.11 in honor of my class year. However, I chose not to designate a specific recipient for my donation. My BU experience was influenced by so many different departments and organizations that I decided to make my gift in honor of the University.
Participation shows others how much we care about our University, and it's also a major factor in the U.S. News & World Report ranking system. Donating to BU is an investment in our future as alumni; when BU rises in the rankings, all of our degrees become more valuable. With that in mind, students are told to give more when they 'hit it big,' and to give what they can for now.
The many amazing experiences I had at BU would not have been possible without alumni support. As a student, I worked at BU Financial Assistance, and I am well aware of the high price of tuition and the struggles that many students go through to afford the BU experience and all it has to offer. I was fortunate enough to feel the direct impact of alumni giving by way of academic scholarships that I was awarded, endowed by my fellow BU alumni.
Nearly one year out, I have not quite 'hit it big' yet, but I have only just begun my career. I have been working for the Boston Red Sox on a part-time basis, and I recently started a great full-time job with Simon-Kucher & Partners, a consulting firm in Cambridge. Though I am moving on to the next stages in my life, I continue to stay connected to BU, and I continue to support the University with regular donations. I also remain active on campus by supporting the 2012 Class Gift Campaign in an advisory role and participating in various alumni events. Everything I have experienced since graduation was made possible by my time at BU, so I stay involved as a way of saying thanks.
We all know that BU can compete with the top schools of the world. The Huffington Post and Unigo rank BU as the best place to go to college; those of us lucky enough to attend BU know they are right." ■
Several members of the Class of 2012 have already taken Chris's advice and share theirs as well:
Parents of Seniors: Make a Class Gift in honor of your graduate!