Parent Magazine
The "Ultimate" Club Sport
BU's Lady Pilots build camaraderie by tossing Frisbees.
By Kendall Salter (COM'13)
Photos by Cydney Scott
The sport of Ultimate is a conglomeration of unusual influences. It combines a childhood toy with collegiate camaraderie, features strategies drawn from soccer and football, and is a free-flowing, fast-paced contest requiring creativity and quick thinking.
For members of the Boston University women's Ultimate team, the sport is as much a part of the college experience as dorm food and all-nighters. To them, Ultimate is an outlet for exercise and competition. The sport also offers BU students a great way to get involved, become part of a team, and meet new friends.
"The sport is really, really fun. It is easy to learn," says Rose O'Connell-Marion (CAS'14), fresh off a three-hour practice at Nickerson Field. "It's different from any other sport."
O'Connell-Marion is one member of the Lady Pilots—the women's team's official nickname—who discovered the sport in high school and carried her interest into her first year at BU. Like many students, O'Connell-Marion was looking for a way to meet people, but also wanted to continue playing the sport she had grown to love. BU's Ultimate team was the perfect fit.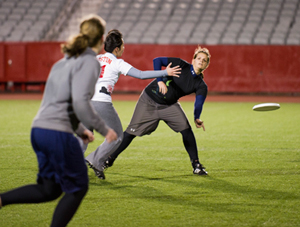 "I had no plans to just stop playing. It's a constant in my life," says O'Connell-Marion, who adds that one of her favorite aspects of the sport is the people she gets to meet. "It is a really strong community. It was one of my main resources for making friends."
Ultimate, which is no longer referred to as Ultimate Frisbee because "Frisbee" is a registered trademark, is especially popular on college campuses. Many students are drawn to the quick pace of the game, the competition, and the teamwork necessary to succeed. The rules are also easy to pick up, a factor that makes it an especially attractive option for newcomers.
Mackenzie Fazekas (SAR'08) played Ultimate for five years at Boston University before eventually taking over as head coach of the women's team. She says that many young women are drawn in by the welcoming spirit fostered by the players and join the team without ever having played Ultimate.
"There are no cuts. It's a really fun group," Fazekas says. "People are happy to be playing, happy to be running around. If you are looking for something new to try, this is a great thing."
Fazekas remembers her own playing days at BU fondly. "We lived and died by our Ultimate team. That's where I developed my strongest friendships. It was a big part of my life."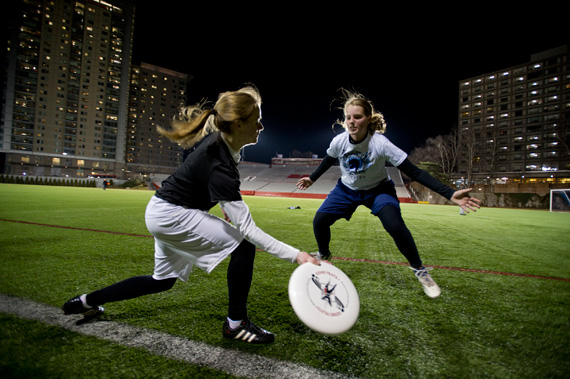 O'Connell-Marion also encourages other students to try out, especially if they are new to the University or searching for a new group of friends. "We're always joking around," she laughs, before adding a little sheepishly, "even if it is a serious practice."
For club president Tracy Snyder (CAS'12), Ultimate provided a chance to continue an athletic career that otherwise may have ended after high school. Snyder, like many Ultimate players, was an active participant in high school sports, but didn't plan on playing at the varsity level in college. She says that Ultimate was the perfect transition.
"I really like playing sports. It's always great just to be on a team," Snyder says. "I heard about the team here so I just decided to show up and see what it would be like."
She has been a member ever since.
There are other benefits to being part of the Ultimate scene at Boston University. Road trips, tournaments, dinners, and other activities help the team bond, forging relationships that last throughout college and beyond. (Team members recently spent spring break together at the annual High Tide Ultimate Tournament in Brunswick, Georgia, and have traveled to regional tournaments in Pennsylvania, Rhode Island, and Connecticut.) But the sport also emphasizes the importance of individual traits like accountability and honesty. Ultimate is self-officiated, meaning that each player is expected to call her own fouls. This unusual stipulation is a point of pride among Ultimate participants, and a reflection of the game's high standard of sportsmanship.
"I think the big thing to focus on is really that spirit of the game, the values that the sport teaches," Fazekas says. "Generally speaking, people are honest, people are good sports; it's a great environment to learn in."
The Lady Pilots' season—along with that of the men's team, the Ozone Pilots—begins in earnest in the spring, but the team plays year-round, regardless of the weather. That, too, is part of what makes Ultimate so fun.
"We practice all through the semester unless the field is absolutely covered in ice," says O'Connell-Marion. Ice and snow make running more difficult, she says, but she and her teammates take pride in their determination to keep on playing. ■