Parent Magazine
Terrier Triumphs
BU's sports teams are building a legacy of victory.
By Patrick L. Kennedy (COM'04)
Photo of Women's Beanpot by Brooks Canaday
We all know there's more to college than studying. BU takes pride not only in its students' academic accomplishments but also in their athletic feats. In 2011, Boston University earned its record-breaking 11th Stuart P. Haskell, Jr., Commissioner's Cup, which is awarded to the best all-around athletic department in the NCAA America East conference. This was the ninth time in 10 years BU was so honored.
The University has captured no less than 43 conference championships in the past seven years, a span of time that has seen growing numbers of fans at Agganis Arena, Walter Brown Arena, and Nickerson Field. Attendance tripled last year alone.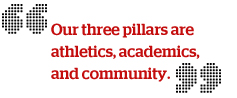 The Terriers earn high marks off the field as well, with student-athletes across all sports keeping a grade-point average over 3.0 and combining for 4,500 hours of community service and outreach. "Our three pillars are athletics, academics, and community," says Associate Athletic Director for Marketing Communications Jenifer Barsell. "We place a lot of weight on all three."
What follow are just a handful of the highlights from the field, court, pool, ice, and mat over the past few years.
Momentous Momentum: Women's Ice Hockey
Established as an NCAA Division I team in 2005, the women's ice hockey Terriers have "come a long way in a short amount of time," says Barsell. In their fourth year, they went 18–11–7 and made it to the Hockey East semifinals. In their fifth, BU won the Hockey East title and went on to the NCAA tournament, falling to the nation's best team, Mercyhurst, in the quarterfinals.
Last season, the team's sixth, the Terriers again faced Mercyhurst in the NCAA quarterfinals, only this time they beat them 4–2 and advanced to the Frozen Four. With a 4–1 win over Cornell, BU made it into the national championship game, falling to that year's No. 1-ranked team, Wisconsin.
This past March, the 23–14–1 Terriers won the 2012 Women's Hockey East championship in a double-overtime win against Providence, advancing yet again to the national tournament, then shattered the program record for longest game in a triple overtime loss to rival Cornell. The score, after nearly 120 minutes of hockey, was 8–7.
The women's coach is a long-familiar face to many BU hockey fans: Brian Durocher (SED'78) was a goaltender on the 1978 NCAA national champion men's squad. He finished that season with a 14–2 record and an .875 winning percentage, the sixth best in University history. Later, Durocher was an associate head coach under Jack Parker.
"He's done an incredible job with those student-athletes, taking that program to a championship level," says Barsell. "It's a huge testament to what he's been able to do with respect to recruiting as well."
Indeed, the women's team includes Olympic gold medalists and world champions. Defender Catherine Ward (GSM'11) and forward Marie-Philip Poulin-Nadeau (CAS'14) played on the Canadian national team that, yes, beat USA in the 2010 Winter Olympics in Vancouver (Poulin-Nadeau scored both goals). Forward Jenn Wakefield (CAS'12) has also played for the Canadian nationals and was an Olympic alternate. In the offseason, she and defender Tara Watchorn (SAR'12) joined Ward in helping their country's team win the 2011 International Ice Hockey Federation World Women's Championship.
"We have been on the upswing the last couple years in attendance at women's hockey, which is great," says Barsell.
Hoop Dreams: Men's Basketball
After almost a decade out of national contention, BU's b-ball men are now back in the spotlight. Last year, the team hosted Agganis Arena's first America East title game and won it—their 11th win in a row—after rallying from a 15-point deficit in the second half. "It was actually during spring break, and we still packed Agganis Arena for that game," says Barsell. "And after we won, the fans stormed the court. It was just an electric atmosphere."
During 2011's March Madness, BU fell to powerhouse Kansas, a school that went 37–3 for the season and entered the tournament as the No. 1 seed. The Terriers didn't go down without a fight: at one point late in the game, Kansas only led by six points.
Four of last year's five starters returned this season—including first-team all-conference honoree Darryl Partin (MET'12) and all-rookie team members D. J. Irving (CGS'12, BU'14) and Dom Morris (CGS'12, BU'14)—and played hard under new coach Joe Jones, former head coach at Columbia University and associate head coach at Boston College.
"He's a great guy, and he's done a great job as coach, really gelling with the team," says Barsell. "They're on board with him and his philosophy."
The hoops Terriers made it to the America East tournament again in March 2012, falling to the No. 6 seed, Hartford. Partin, who has scored more than 1,000 points over his junior and senior seasons, was named the America East Player of the Year.
Perennial Pitch Players: Women's Soccer
The BU women's soccer team has made an NCAA tournament appearance nearly every year since 2000, and the fall 2011 season was one of the best yet. The Terriers shut out 14 opponents and went 19–3–1 (.848 winning percentage), a program record, on the way to capturing their fifth straight America East title—a conference record. The women defeated Ivy League champion Harvard to advance to the second round of the NCAA tourney for their third time. There, top-seeded Wake Forest finally ended BU's 14-game winning streak.
The National Soccer Coaches Association of America (NSCAA) ranked BU the No. 17 team in the country and honored five Terriers with All-Region accolades: Lina Cords (CAS'12), Brittany Heist (CGS'09, CAS'11, SED'12), and Jessica Luscinski (SAR'12) were named to the NSCAA's First Team; and Katherine Donnelly (COM'12) and Kylie Strom (SMG'14) made the Second Team. Heist was also named the 2011 America East Midfielder of the Year.
Hall of Fame: Men's Wrestling
BU has sent grapplers to the national wresting tournament nearly every year of this millennium. And from 1973 to 2000, BU made an appearance every single year except 1978 (disco injuries?). For most of this time (since 1980), the team has benefited from the coaching of Carl Adams, an inductee in the Massachusetts Wrestling Hall of Fame. Adams has written three books on wrestling, and he designed the ADAM Wrestling Takedown Machine and other training equipment used in high schools and colleges across the country.
Last season, cocaptains John Hall (CAS'12), Fred Santaite (CGS'10, CAS'12), and Hunter Meys (SED'12) qualified for the NCAA tournament, where they combined for three victories. All three returned this year, with Hall ranked 15th in the nation in the 197-pound class; Santaite 11th in the 133-pound class; and Meys 5th in the 174-pound class.
The team's success continued in 2012 as Kyle Czarnecki (SMG'13) and Kevin Innis (CGS'12, BU'14) made their debuts at the NCAA tournament in March. Innis advanced to the second day. He ended his season with a 22–7 record, while Czarnecki led his team in wins with a 23–11 record.
Making a Splash: Women's and Men's Swimming and Diving
BU ruled the indoor waves this season. The men's and women's swimming and diving teams captured their first joint America East team title since 1994. It was the women's third America East title in four years. The men defeated University of Maryland, Baltimore County, the conference's reigning champions for the past eight years. Fittingly, Boston University hosted the championship meet in February at its state-of-the-art Fitness & Recreation Center, which opened in 2005.
Connor Stuewe (ENG'15) earned the Most Outstanding Rookie award after placing fourth in the 200-yard backstroke and second in the 200-yard freestyle and 100-yard backstroke. Amanda Schmitz (SAR'12) set a meet record by swimming the 200-yard butterfly in 1:59.01. Three Terriers—Melinda Matyas (CAS'13), Chelsea Glincman (COM'14), and Jared Scheck (CAS'14)—went on to compete in the NCAA Zone "A" Diving Championships in Buffalo in March.
What's more, eight Terriers were named to the 2012 America East Swimming and Diving All-Academic Teams: Schmitz, Scheck, Kristen Connors (CFA'12), Kara Zebrowski (CAS'13), Katie Radin (COM'13), Kendra Cheng (SAR'14), James Sundquist (CAS'14), and Wesley Pate (ENG'14).
Sporting on the Court: Women's Tennis
Last season, Leonie-Charlotte Athanasiadis (CAS'14) scored the final point in a tight contest with No. 1 Binghamton to capture BU's 18th straight America East title. (The women's tennis Terriers have won 22 league titles overall.) From there, BU made its 13th consecutive appearance in the NCAA tournament, where they fell to California.
The Intercollegiate Tennis Association named Stefanie Nunic (SHA'12) the Northeast's Top Player to Watch and awarded Vanessa Steiner (SED'11) the Cissie Leary Award for Sportsmanship. The Leary Award goes to a woman who displays inspiring dedication and commitment to her team, enhances her team's performance, and exemplifies the spirit of college tennis. Steiner, a first-team All-America East honoree as a freshman, suffered multiple injuries that derailed her collegiate tennis career, but battled back to return for her senior season and earn second-team all-league honors in doubles along with partner Monika Mical (CAS'12). The duo posted a 12–5 record.
The tennis Terriers' long streak of America East titles finally came to an end this year. Stony Brook beat BU by a single point in a closely contested 4–3 semifinal defeat in April. ■