Paul Webster Hare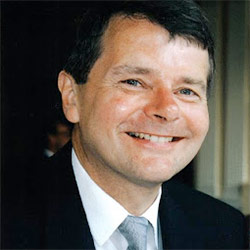 Title

Senior Lecturer

Education

MA University of Oxford, UK
JD College of Law in London, UK

CV

Email

Phone

(617) 358-5550

Address

152 Bay State Road Room 224 Boston, Massachusetts 02215
Ambassador Paul Webster Hare was a British diplomat for 30 years and the British ambassador to Cuba from 2001-04. He now teaches international relations at Boston University.
Hare graduated with First Class Honors in Politics and Economics from the University of Oxford in 1972 and from the College of Law in London in 1976. He worked for 5 years in the private sector, in law and investment banking, before entering the British Diplomatic Service. He served overseas at the UK Representation to the EU in Brussels, in Portugal, New York, and in Venezuela as Deputy Head of Mission. He was Head of the Foreign Office's Non-Proliferation Department and the first Project Director for the UK's presence at the Shanghai World Expo in 2010.
Hare is a Fellow of the Weatherhead Center for International Affairs at Harvard University and served as president of the British Baseball Federation from 2000-01. He has been designated a Lieutenant of the Royal Victorian Order by Her Majesty Queen Elizabeth II.
Ambassador Hare teaches classes at Boston University on Public Diplomacy, Reform of Diplomacy, Arms Control, Latin America Today and on Cuba in Transition. His novel, "Moncada – A Cuban Story", set in modern Cuba, was published in May 2010. His book "Making Diplomacy Work; Intelligent Innovation for the Modern World.' was published in early 2015.
He has written widely on Cuba with articles appearing in, inter alia, The Financial Times, The Atlantic, The Miami Herald and Newsweek. He served on the Brookings Institution core group on Cuba and has had several papers published by Brookings. He is consulted on Cuba and Latin American issues by, inter alia, The New York Times, The Washington Post, Reuters, the Associated Press, AFP, Forbes, NPR and the BBC.
He and his wife Lynda have six children and live in Marblehead, Massachusetts.
Specialization:
Latin American Foreign Policy, Diplomacy, Latin American Studies, Arms Control