Jayita Sarkar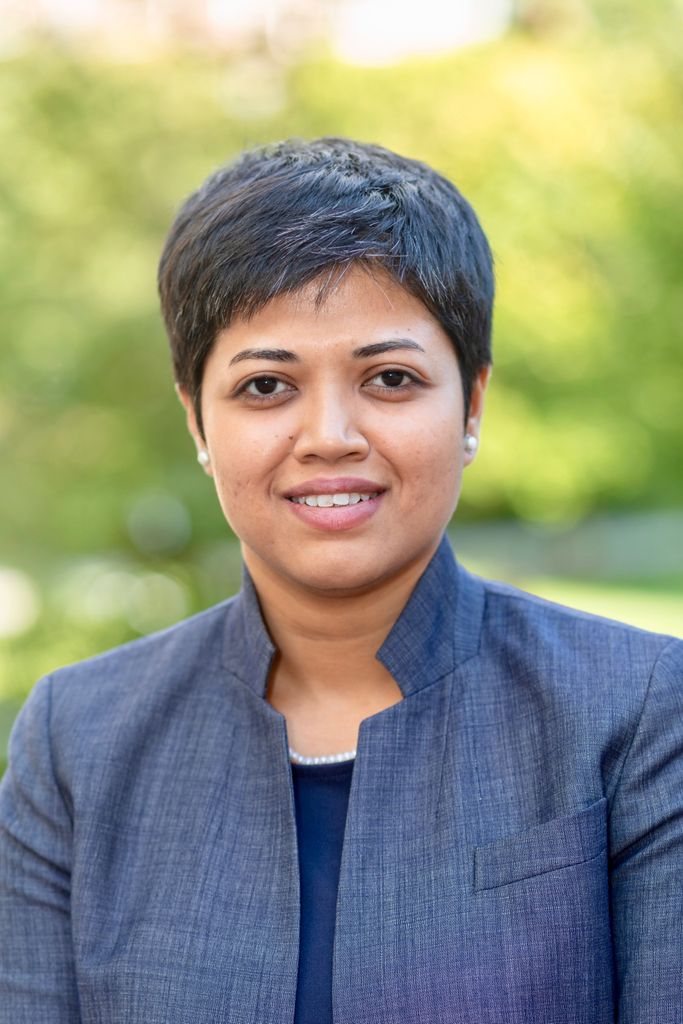 Title

Assistant Professor of International Relations

Education

Ph.D., Graduate Institute Geneva, Switzerland
M.A., University of Paris-Sorbonne (Paris IV), France
B.A./M.A., Jadavpur University, India

CV

Email

Phone

617-353-7232

Address

154 Bay State Road, #201A
Jayita Sarkar is an Assistant Professor at Boston University's Frederick S. Pardee School of Global Studies, where she teaches diplomatic and political history. Her expertise is in 20th century South Asia, history of U.S. foreign relations, nuclear technologies, and connected partitions. Her prize-winning research has been published in the Journal of Cold War Studies, Cold War History, International History Review, Journal of Strategic Studies, Nonproliferation Review, and elsewhere. She is also the founding director of the Global Decolonization Initiative at BU's Pardee School. 
In 2020-21, she is on research leave from Boston University to make progress on her second book project as an Ernest May Fellow in History & Policy, and an affiliate of the Weatherhead Initiative on Global History (WIGH) at Harvard University. This project entitled, "Light Water Capitalism: The Rise and Fall of U.S. Global Power," examines the role of U.S. government actors, businesses and the Export-Import Bank in nonproliferation efforts in order to investigate the intersections of capitalism, empire and diplomacy in Cold War-era U.S. foreign policy.
Her first book, Ploughshares & Swords: India's Nuclear Program in the Global Cold War, examines the first forty years of India's nuclear program through the prisms of geopolitics and technopolitics. It is under contract to be published with Cornell University Press.
She is currently also pursuing a new project on the global intellectual history of partitions from the 1900s to the 1970s, with particular emphasis on the Bengal-Burma frontier.
Born in Calcutta, India, she obtained her doctorate in History from the Graduate Institute Geneva in Switzerland. She has held prestigious fellowships such as the Albert Gallatin Fellowship in International Affairs at Yale, Stanton Nuclear Security Fellowship at Harvard, and the Niehaus Fellowship in U.S. Foreign Policy and International Security at Dartmouth College. 
 At Boston University, she teaches courses on the history of international relations after 1945 (IR350), South Asia after 1940 (IR377), international nuclear politics (IR315 and IR522), and history of the present (IR539). Since 2017-18, Prof. Sarkar has been the co-convener of the BU Pardee School Research Seminar with Prof. Mahesh Karra.
Read more at Prof. Sarkar's personal website and follow her on Twitter.
PUBLICATIONS (Peer-reviewed Journal Articles Only)
Sarkar, J. "From the Dependable to the Demanding Partner: The Renegotiation of French Nuclear Cooperation with India, 1974-1980," Cold War History, 2020, advance access. DOI: 0.1080/14682745.2019.1694908.
Sarkar, J. "The Economic Strategies of U.S. Nonproliferation Policy during the Nixon-Ford Years," Forum: "A Political Economy of Global Security Approach," edited Rosella Cappella-Zielinski and Kaija Schilde, Journal of Global Security Studies, 2020, advance access. DOI: 10.1093/jogss/ogaa009
Sarkar, J. "U.S. Policy to Curb West European Nuclear Exports, 1974-1978," Journal of Cold War Studies 21, no. 1 (Spring 2019): 110-149. DOI: 10.1162/jcws_a_00877
Blarel, N. & J. Sarkar. "Sub-State Organizations as Foreign Policy Agents: New Evidence and Theory from India, Israel and France," Foreign Policy Analysis, 15, No. 2 (July 2019): 413-431. DOI: 10.1093/fpa/ory009.
Krige, J. & J. Sarkar.  "U.S. Technological Collaboration for Nonproliferation: Key Evidence from the Cold War,"Nonproliferation Review 25, no. 3-4 (2018): 249-262. DOI: 10.1080/10736700.2018.1510465.
Rabinowitz, O. & J. Sarkar. "'It Isn't Over Until the Fuel Cell Sings': A Reassessment of the US and French Pledges of Nuclear Assistance in the 1970s," Journal of Strategic Studies 41, no. 1-2 (2018): 275-300.  DOI:10.1080/01402390.2017.1328355.
Sarkar, J. "The Making of a Nonaligned Nuclear Power: India's Proliferation Drift, 1964-1968," International History Review 37, no. 5 (2015): 933-950. DOI: 10.1080/07075332.2015.1078393.
Sarkar, J. "'Wean them away from French tutelage': Franco-Indian nuclear relations and Anglo-American anxieties in the early Cold War, 1948-1952," Cold War History 15, no.3 (2015): 375-394. DOI: 10.1080/14682745.2014.989840.
Sarkar, J. "Compatriotes de l'atome? La coopération nucléaire franco-indienne, 1950-1976," Critique Internationale 63, no. 2 (2014): 131-149. DOI: 10.3917/crii.063.0131.
Sarkar J. "India's Nuclear Limbo and the Fatalism of the Nuclear Non-Proliferation Regime, 1974-1983," Strategic Analysis 37, no. 3 (2013): 322-337. DOI: 10.1080/09700161.2013.782662.
Specialization:
20th Century South Asia, Connected Partitions, Nuclear Technologies, U.S. Foreign Relations History.