Betty Anderson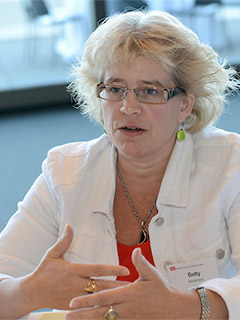 Title

Director of the Institute for the Study of Muslim Societies and Civilizations (2017-19);
Professor of History

Education

BA Trinity College
MA University of California, Los Angeles
PhD University of California, Los Angeles

CV

Email

Phone

(617) 353-8302
Betty Anderson is the author of Nationalist Voices in Jordan: The Street and the State (University of Texas Press, 2005), The American University of Beirut:  Arab Nationalism and Liberal Education (University of Texas Press, 2011), and A History of the Modern Middle East:  Rulers, Rogues and Rebels (Stanford University Press, Spring 2016), as well as a co-author with Carol Berkin of the History Handbook (Houghton-Mifflin 2003 and Cengage 2011). Dr. Anderson has published articles in Civil Wars, Comparative Studies of South Asia, Africa and the Middle East, Critique, and Jordanies, as well as chapters for a number of edited volumes. She has written about the themes covered by Islamic and history textbooks used in Jordan, the politicizing role of education in the twentieth-century Middle East history, and the evolution of the American liberal education system at the American University of Beirut (AUB).  Her latest project examines the economic, educational, political and social changes that have come to Beirut, Amman, and Ramallah over the last 25 years.
Dr. Anderson has received Fulbright and American Center for Oriental Research (ACOR) grants to conduct research in Jordan and Lebanon. At Boston University, she is Director of the Institute for the Study of Muslim Societies and Civilizations, as well as the Institute's advisor to the two Muslim Studies Minors.
Specialization:
History of the Middle East, social and intellectual history of the Arab world, history of education, and modern world history.