Angelo Codevilla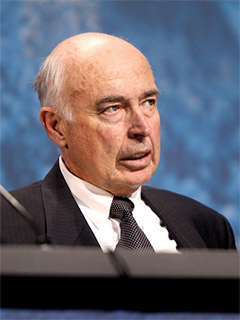 Title

Professor Emeritus of International Relations

Education

BA Rutgers University
MA University of Notre Dame
PhD Claremont Graduate School

Email
Angelo Codevilla has been a U.S. Naval officer, an Assistant Professor at Grove City College and North Dakota State College, a U.S. Foreign Services Officer, and a member of President-Elect Reagan's Transition Teams within the U.S. Department of State, in which position he dealt with Western Europe and with matters affecting the U.S. intelligence community. He served as a U.S. Senate staff member dealing with oversight of the U.S. intelligence services, and has held a professorial lecturer at Georgetown University and a Senior Research Fellow for the Hoover Institute at Stanford University.
Codevilla's books include No Victory, No Peace (2004), Between the Alps and a Hard Place(2000), The Character of Nations (1997), Informing Statecraft: Intelligence for a New Century(1992), While Others Build (1988), and Modern France (1974). He has also translated and edited The Prince by Machiavelli (1997).
Codevilla taught at Boston University from 1995 until his retirement in 2008.
Specialization:
Security Studies, U.S. Foreign Policy, Political Theory