Alumni Newsletter 2012
---
Alumni & Students
Alumnus Profile: Justin Tinsey, Project Coordinator, U.S.-Africa Business Center

Justin Tinsey is the project coordinator at the U.S.-Africa Business Center (USABC) at the Corporate Council on Africa (CCA) in Washington, D.C.  The USABC is a program sponsored by the United States Agency for International Development (USAID) and is designed to create business linkages between U.S. and African small and medium size enterprises (SME) and heighten the profile of Africa for U.S. investors.
As project coordinator, Tinsey helps develop business partnerships by facilitating one-on-one company introductions through a series of events, publications, and targeted web-based outreach. In his time at the USABC, Tinsey has helped facilitate numerous inward and outward bound, cross-sectoral, and trade missions for African and American businesses. Additionally, his team was responsible for hosting the Private Sector/ Civil Society Session at the 2011 African Growth and Opportunity Act Forum in Zambia.
Tinsey holds an MA degree in Global Development Policy from Boston University along with a graduate certificate in African Studies.
---
IRJobs Online Jobs Board
The IR Department has launched an online jobs board for our students and alumni, called IRJobs.  The site is exclusively for our students and alumni.  Current students and alumni who graduated in May 2011 or later can login using their regular BU login.  (Unfortunately, prior to May 2011, BU deleted login information for graduates, so for now we do not have a way for those alumni to login).
We encourage all of our alumni to let us know of job openings (or internships) in the organizations they work for, especially entry level positions that would be appropriate for new graduates.  Please send information on such positions to irjobs@bu.edu.  Thank you for any help you can give us with this!
---
BU IR on Facebook
The IR department is now on Facebook!  We have created a Facebook group for alumni and students of our MA programs.
To join, go here and click the button near the top right that says 'Join Group.'
---
Department News
GRE:EN Project Announces Partnership with BU IR
The International Relations and Political Science Departments at Boston University have become partners of Global Re-ordering: Evolution through European Networks, also known as the GRE:EN project.
Under the auspices of the University of Warwick's Center for the Study of Globalization and Regionalization (CSGR), the GRE:EN project has won €8 million in funding from the European Commission FP7 competition to conduct a study that aims to study the role of the European Union (EU) in an increasingly multi-polar world.
GRE:EN is a collaborative consortium of think tanks and university research institutes, which include the Free University of Brussels, the University of Amsterdam, the United Nations University in Bruges, the Central European University in Budapest, and the Copenhagen Business School. These European institutions have teamed up with institutes across the globe that will serve as research hubs for the project — Beijing University (China), Waseda University (Japan), Boston University (USA), the Latin American Academy of Social Sciences in Buenos Aires (Argentina), the Cape Town Business School (South Africa), the Rajaratnam School of International Studies (Singapore), and the University of Western Australia (Australia)
The project, which runs from March 2011 to March 2015, will provide the International Relations and Political Science Departments at BU an opportunity to be involved in a major European research project, as well as benefit from extensive involvement in the various workshops and seminars at partner institutes and on campus.
---
Faculty News
Michael Woldemariam
In the Fall 2011 term, the IR Department welcomed Michael Woldemariam to our faculty.
Woldemariam's teaching and research interests focus on African politics, particularly the dynamics of armed conflict, the behavior of rebel organizations and self-determination movements, and post-conflict institution building. He has special expertise in the Horn of Africa, and has conducted fieldwork in Ethiopia, Mozambique, Somaliland, South Africa, and India.
His dissertation and book project, titled "Why Rebels Collide: Factionalism and Fragmentation in African Insurgencies" investigates a common feature of civil wars: the fragmentation of rebel organizations into mutually exclusive, competing groups. The project is based on a comprehensive analysis of Ethiopia's civil wars and original data on patterns of rebel fragmentation across post-colonial Africa.
Woldemariam has been a fellow at the Woodrow Wilson International Center for Scholars, a Bradley fellow, and a research specialist with the Innovations for Successful Societies program at Princeton University.
---
Cornel Ban
Cornel Ban will be joining the IR Department for the Fall 2012 term.
Ban's research focuses on political economy and development.
Ban is the author of several peer-reviewed articles: "Brazil's Liberal Neo-Developmentalism: Edited Orthodoxy or New Policy Paradigm?" (Review of International Political Economy), "Sovereign Debt, Austerity and Regime Change: The Case of Nicolae Ceausescu's Romania" (East European Politics and Societies), "On Stranger Tides: The Diffusion of Ordoliberal Ideas in Postwar Spain" (History of Economic Ideas) and "Economic Transnationalism and Its Ambiguities: Romanian Migration to Italy" (International Migration). He is currently completing a book manuscript on the political economy of crises, with a focus on the role of economic ideas and the interaction between international and domestic actors.
Before joining the IR Department in 2012, Ban was a postdoctoral fellow at the Watson Institute for International Studies at Brown University and served as deputy director of Development Studies at the same institution.
---
Renata Keller
The IR Department will welcome Renata Keller for the Fall 2012 term.
Keller's research and teaching interests focus on Latin American history, particularly the connections between foreign and domestic politics, the dynamics of the Cold War, and U.S. relations with Latin America. She has special expertise in Mexican, Cuban, Chilean, and Argentine history.
Keller's dissertation and current book project analyze Mexico's relations with Cuba and the United States in the decade after the Cuban Revolution. She has held grants and fellowships from the Social Science Research Council, Mellon Foundation, and Fulbright Foundation. She has presented her work at regional, national, and international conferences, as well as in edited volumes and articles, including an article in the Latin American Research Review.
---
Jeremy Menchik
Jeremy Menchik will be joining the IR Department in 2013 following an appointment as a Postdoctoral Research Associate at the American University of Beirut, Lebanon.  On his arrival, Menchik will become the coordinator of the IR-Religion MA program.
Menchik specializes in the politics of religion with a focus on Indonesia and the Muslim world. His doctoral work examined the meaning and practices of tolerance in the world's largest Islamic organizations and was based on two years of field research that included archival work, ethnographic observation, and an original survey of 1000 elites. He is currently preparing his book manuscript titled Tolerance Without Liberalism: Islamic Institutions in Twentieth Century Indonesia, and developing related projects on the origins of intolerance, the relationship between religion and nationalism, and the deployment of identity symbols in democratic elections. He has taught a course on the politics of Islam at the University of Wisconsin-Madison, and a course on research methodology at the State Islamic University Syarif Hidayatullah, Jakarta. He will coordinate the department's MA program in International Relations and Religion beginning in 2013.
Menchik has received research fellowships from the U.S. Department of Education, NSEP-Boren, The Center for the Study of Democracy, Toleration, and Religion at Columbia University, and recently completed a Postdoctoral Fellowship in Contemporary Asia at Stanford University's Shorenstein Asia-Pacific Research Center.
---
Faculty Publications
War, Guilt, and World Politics after World War II
By Thomas Berger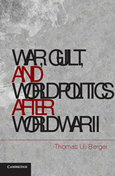 When do states choose to adopt a penitent stance towards the past? When do they choose to offer apologies for historical misdeeds, offer compensation for their victims, and incorporate the darker sides of history into their textbooks, public monuments, and museums? When do they choose not to do so? And what are the political consequences of how states portray the past? This book pursues these questions by examining how governments in post-1945 Austria, Germany, and Japan have wrestled with the difficult legacy of the Second World War and the impact of their policies on regional politics in Europe and Asia. The book argues that states can reconcile over historical issues, but to do so requires greater political will and imposes greater costs than is commonly realized. At the same time, in an increasingly interdependent world, failure to do so can have a profoundly disruptive effect on regional relations and feed dangerous geopolitical tensions.
(From the publisher.)
---
On the Edge of the Cold War:  American Diplomats and Spies in Postwar Prague
By Igor Lukes
In 1945, both the U.S. State Department and U.S. Intelligence saw Czechoslovakia as the master key to the balance of power in Europe and as a chessboard for the power-game between East and West. Washington believed that the political scene in Prague was the best available indicator of whether the United States would be able to coexist with Joseph Stalin's Soviet Union.
In this book, Igor Lukes illuminates the end of World War II and the early stages of the Cold War in Prague, showing why the United States failed to prevent Czechoslovakia from being absorbed into the Soviet bloc. Lukes paints a critical portrait of Ambassador Laurence Steinhardt. He shows that Steinhardt's groundless optimism caused Washington to ignore clear signs that democracy in Czechoslovakia was in trouble. Although U.S. Intelligence officials who served in Prague were committed to the mission of gathering information and protecting democracy, they were defeated by the Czech and Soviet clandestine services that proved to be more shrewd, innovative, and eager to win. When the Communists moved to impose their dictatorship, the U.S. Embassy and its CIA section were unprepared and powerless.
(From the publisher.)