GDP Center Hosts Talk With AIIB President Jin Liqun
October 18, 2019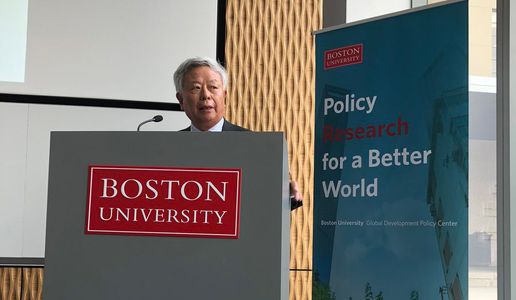 The Global Development Policy (GDP) Center, an affiliated center of the Frederick S. Pardee School of Global Studies at Boston University, hosted an October 18, 2019 talk with Jin Liqun, President of the Asian Infrastructure Investment Bank (AIIB). 
Jin Liqun is a a Chinese politician, banker, and professor who formerly  served as the Chairman of China International Capital Corporation, the Vice President of the Asian Development Bank, and the Vice Minister of Finance of the People's Republic of China.
In the talk, held as part of the GDP Center's Global China Research Colloquium, Liqun focused on multilateral approaches to development. He was introduced by Kevin Gallagher, GDP Center Director and Professor of Global Development Policy at the Pardee School.
"In the family of MDBs, we are learning from our sister institutions," Liqun said. "We don't think we should be a clone to these institutions no matter how wonderfully they are contributing. The most important contribution is to promote a multilateral approach for the 21st century."
Great conversation with Jin Liqun today from @AIIB_Official ! Said China will lead by example and be the first major country to relinquish veto power of an MDB when more members join #aiib @Morris_ScottA @BrettonWoodsCom @brettonwoodspr @sobel_mark pic.twitter.com/P6EvlJyaXa

— Kevin P. Gallagher (@KevinPGallagher) October 18, 2019
The GDP Center is a university-wide research center in partnership with the Office of the Vice President and Associate Provost for Research and the Frederick S. Pardee School of Global Studies. The GDP Center's mission is to advance policy-oriented research for financial stability, human well-being, and environmental sustainability.