Garcevic Speaks at Budapest Institute for Foreign Affairs and Trade
May 21, 2019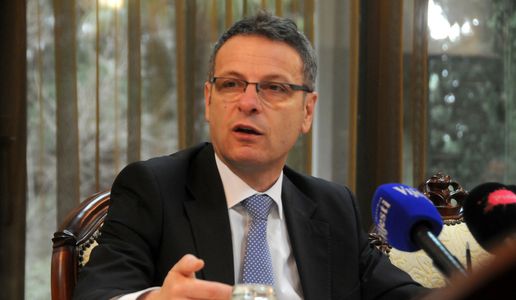 Ambassador Vesko Garcevic, Professor of the Practice of International Relations at the Frederick S. Pardee School of Global Studies at Boston University, was invited by the Institute for Foreign Affairs and Trade in Budapest, Hungary to take part in a May 14, 2019 panel discussion on security and stability in the Balkans entitled "Role of European and Euro-Atlantic Integration Structures."
Since the end of the cold war, Southeast Europe and the Western Balkan have been engaged in the process of NATO and EU enlargement that can also be considered as a peace project in the war-torn region (similarly to the post-WWII situation in Western Europe). In the run-up to European elections and the creation of a new European Commission, the panel discussion served as a good opportunity to discuss future enlargement.
The event explored how a new EU can contribute to security and stability in the region, what may happen with the NATO enlargement process, how to strike a balance between larger EU member states and members supportive of NATO enlargement.
Participants also discussed whether Balkan states can accelerate democratic reforms and establish a strong security-value based community? Discussants covered political, sectoral and security policy aspects. The roundtable discussion aimed at highlighting both theoretical and practical considerations of the integration process in Southeast Europe.
Participants included representatives of the Institute for Foreign Affairs and Trade, Serbia and the Ministry of Foreign Affairs of Hungary. During his stay in Budapest, Amb. Garcevic also had meetings with the Ministry of Foreign Affairs of Hungary.
During his diplomatic career, Amb. Vesko Garcevic dealt with issues pertinent to European security and NATO for almost 14 years. In 2004, he was posted in Vienna to serve as Ambassador to Organization for Security and Cooperation in Europe. He had been a Montenegro's Ambassador to NATO from 2010 until 2014 and served as a Montenegro's National Coordinator for NATO from 2015 until he joined the faculty at the Pardee School.