Goldstein Gives Talk on the Age of Naval Rivalry
April 19, 2019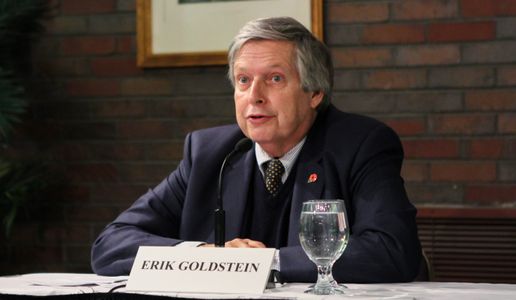 Erik Goldstein, Professor of International Relations and History at the Frederick S. Pardee School of Global Studies at Boston University, gave an April 17, 2019 invited talk to the Wardroom Club on 'The Age of Naval Rivalry'.
The talk focused on the era from the Spanish-American war to World War I, looking at how arms races can rearrange alliances and create new international alignments.
The discussion following the talk carried the issue into contemporary maritime affairs. The Wardroom Club was founded in 1899 as a direct result of the Spanish-American War, and consists of active duty, retired, and former Navy, Coast Guard, Marine Corps, and Merchant Marine officers.
Erik Goldstein's research interests include diplomacy, formulation of national diplomatic strategies, the origins and resolution of armed conflict, and negotiation. He has published in numerous journals, including Review of International Relations, Middle Eastern Studies, East European Quarterly, Historical Research, Historical Journal, Byzantine & Modern Greek Studies, and the Hague Journal of Diplomacy.