Klinger's Book Cited in Article on Rare Earth Elements
February 7, 2019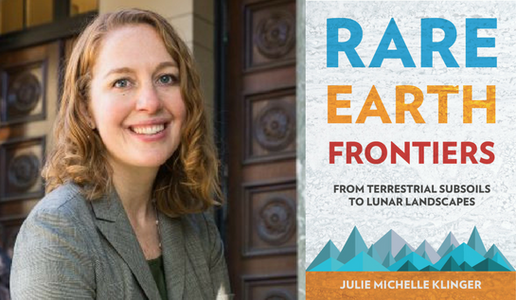 Rare Earth Frontiers: From Terrestrial Subsoils to Lunar Landscapes (Cornell University Press, 2018) by Julie Klinger, Assistant Professor of International Relations at the Frederick S. Pardee School of Global Studies at Boston University, was recently cited in an article by Roger Turner entitled "Reimagining Rare Earth Elements in a Sacrifice Zone-free Future."
Turner, a research fellow at the Science History Institute, cites Klinger's book throughout his article which was published in GreenBiz on February 6, 2019:
Geographer Julie Michelle Klinger has documented how these proposals misleadingly framed the places they would damage as "frontiers" ripe for development. The rhetoric of frontier erased the people who already lived there. And while the moon might not have a regular residence yet, an international treaty is in place that protects it as the patrimony of all humanity. Mining on the moon would break that agreement. Indeed, it often seems that the rare earth crisis becomes a justification for some people to take power over others. 
"My book, which is now open access and also available as an audio book, is being used to help inform visions for a more sustainable future," Klinger said. "This is exactly what I hoped. All the tools for building a more just, sustainable, and green future are at our disposal.  We just need the courage and the will to use them."
Rare Earth Frontiers is a work of human geography that serves to demystify the powerful elements that make possible the miniaturization of electronics, green energy and medical technologies, and essential telecommunications and defense systems. According to Klinger, the rare earths we rely on most are as common as copper or lead, and this means the implications of their extraction are global. Read more about it here. 
Julie Michelle Klinger, PhD, specializes in development, environment, and security politics in Latin America and China in comparative and global perspective. Her recent book Rare Earth Frontiers: From Terrestrial Subsoils to Lunar Landscapes (Cornell University Press in Fall 2017) received the 2017 Meridian Award from the American Association of Geographers for its "unusually important contribution to advancing the art and science of geography."