McPhee, Levitt Speak to Pardee Students on Terrorism and Gangs
December 6, 2018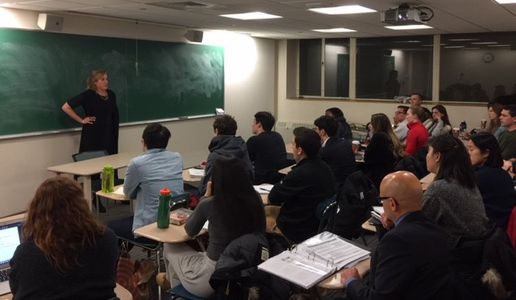 John D. Woodward, Jr., Professor of the Practice of International Relations at the Frederick S. Pardee School of Global Studies at Boston University, hosted Boston-based journalist Michelle McPhee and former federal prosecutor Peter K. Levitt (BU Law 1995) to share their views on terrorism and violent gang activities with students taking IR 516  "Intelligence and Homeland Security."
McPhee, author of Maximum Harm: The Tsarnaev Brothers, the FBI, and the Road to the Marathon Bombing, discussed her experiences covering the
September 11, 2001 terrorist attacks as well as the 2013 Boston Marathon Bombing and ensuing manhunt in Watertown.
"Michelle McPhee spoke with enthusiasm and dedication," said Sammy Walker (Pardee '19). "Her comment on the importance of holding people accountable was an essential aspect of her presentation and her book." 
Levitt, a former Assistant U.S. Attorney in Boston and former Chief of the Organized Crime and Gang Unit, talked to the class about his work related to the bombings and more specifically about his work in helping to take down leading New England-based members of MS-13.
McPhee and Levitt shared important insights and answered many student questions that arose from their talk.