Former Bhutanese Member of Parliament Visits Pardee Students
June 5, 2018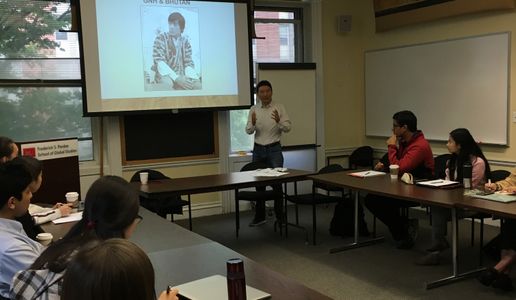 Mr. Kinga Tshering visited with students at the Frederick S. Pardee School of Global Studies at Boston University taking IR 501 Conflict and Cooperation in Asia on June 4, 2018.
Mr. Tshering, who was hosted by Associate Professor of International Relations Manjari Chatterjee Miller, served as a Bhutanese member of Parliament from 2013-2016 and a Chief Executive Officer in the banking and financial sector where he played a leading role in reforming the energy sectors in Bhutan. He is currently at the Harvard Divinity School exploring the intersection of multi faith societies and political cleavages.
IR501 teaches conflict and cooperation through developmental issues in Asia. Students explore human development, the happiness index, and the ethics of conflict and cooperation.
Mr. Tshering spoke to students in the class about the concept of Gross National Happiness (GNH) pioneered by Bhutan, as well as what the concept means in terms of sustainability, good governance, and cultural identity. He also discussed the Institute of Happiness that he is currently in the process of setting up. Students were invited to give feedback on the concept and issue areas they thought the Institute of Happiness should explore.