Najam Comments on Trump Inauguration and Protests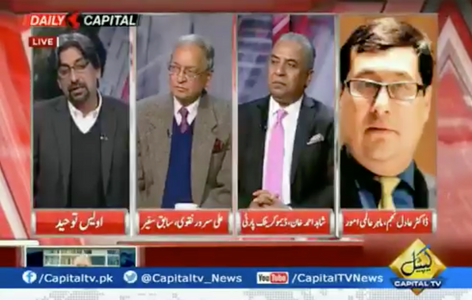 The inauguration ceremonies of United States President Donald Trump and the protests that followed his inauguration brought a flurry of media requests for Adil Najam, Dean of the Frederick S. Pardee School of Global Studies at Boston University. These included appearances several television networks in Pakistan including Geo News TV, Dawn TV and Capital TV on January 20 and 21, 2017.
Apart from various appearances to comment on the inauguration and protests, Najam also appeared in two major news discussion shows on the implications of the inauguration on U.S.-Pakistan relations. Najam commented on the unique nature of this U.S. president and his inauguration, suggesting that much of what will follow remains in flux but is unlikely to improve U.S. relations with Pakistan or with the Muslim world.
You can view Najam's January 20, 2017, appearance on the news show CrossCheck on Capital TV below.
You can view Najam's January 21, 2017, appearance the news show In Focus on Dawn TV below:
Adil Najam is the inaugural dean of the Pardee School and is the former Vice Chancellor of the Lahore University of Management Sciences in Lahore, Pakistan. Learn more about him here.