Pardee School Introduces Redesigned Graduate Programs
January 12, 2017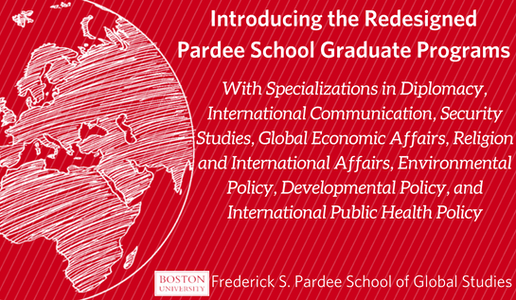 The Frederick S. Pardee School of Global Studies at Boston University is excited to announce the redesign of its graduate programs. This redesign affirms our commitment to providing a world-class education that empowers students who are dedicated to contributing to global peace, prosperity, and sustainability.
The redesigned programs build upon a set of core skills and knowledge in global affairs, negotiation and diplomacy, economics and statistics, and policy analysis, while also offering graduate students more in-depth functional specializations within their degree programs. They will enable students to develop deep and policy-relevant understanding of their chosen specializations, in the context of a rigorous academic environment.
"This redesign of our graduate program is a very major milestone for the Pardee School. It came as a response to a strong need identified by our current and prospective students," said Dean Adil Najam. "It fulfills an important goal of our strategic plan. It provides multiple options to our students: a two-year MA in International Affairs, a one-and-half year MA in Global Policy, and a one-year MA option for students who already have relevant experience. Most importantly, the redesign has retained and strengthened our popular options for professional degrees that bring together international relations with communication, religion, development and environmental affairs, while adding new options to now also be able to leave with specializations in areas such as diplomacy, health, and security studies. All in all, this redesign will enable our students to compete better in the job market and makes the Pardee School more comparable to other leading professional schools of international affairs."
The Master of Arts in International Affairs (MAIA) program prepares students for a wide variety of careers in the international relations field while offering five functional specializations in Diplomacy, International Communication, Global Economic Affairs, Security Studies, and Religion and International Affairs.
The Master of Arts in Global Policy (MGP) program provides graduate students a rigorous grounding in core skills of global policy while offering three functional specializations in Environmental Policy, Developmental Policy, and International Public Health Policy.
The redesigned Master of Arts in International Relations (MAIR) is a 32-credit mid-career program, which in most cases can be completed in two semesters. It is aimed at providing international relations professionals withthe analytical skills and knowledge they need to enhance their professional careers and policy impact.
"These revisions build on almost two years of discussion among Pardee School faculty, based on student exit surveys and interviews, consultations with potential employers such as international organizations and NGOs, a review of comparable programs, and a commitment to fulfill our strategic plan and mission," said Associate Dean for Academic Affairs William Grimes. "Having taught our graduate students in Fundamentals of International Relations for five years, I know how passionate and engaged they are – and I feel even more satisfaction at graduation when I see what they have learned and accomplished over their time at the Pardee School. The revised programs will continue to nurture such passion and accomplishment, while responding to the demands of a changing marketplace. They will also allow students more options in advancing their educational and career goals."
The Pardee School will continue to offer graduate programs in Latin American Studies, International Relations and Juris Doctor, and International Relations and Master of Business Administration.