Miller Publishes Op-Ed on SAARC Summit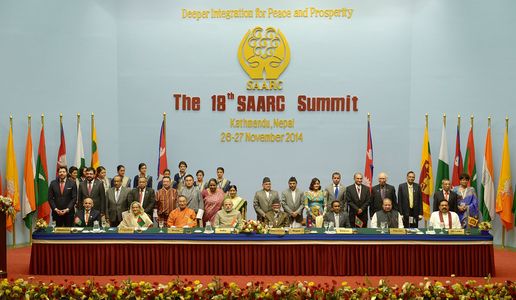 Manjari Chatterjee Miller, Assistant Professor of International Relations at the Frederick S. Pardee School of Global Studies at Boston University, published a recent Op-Ed on the South Asian Association for Regional Cooperation (SAARC) and why the cancellation of the 19th SAARC summit could mean new life for the regional grouping.
Miller's Op-Ed, entitled "SAARC Is Dead; Long Live SAARC," was co-authored with Dr. Bharath Gopalaswamy (Atlantic Council, Washington DC) and published in The Diplomat on November 5, 2016."
From the text of the article:
In less than two weeks, Pakistan was scheduled to host the 19th annual South Asian Association for Regional Cooperation (SAARC) summit. However, in September, after the terrorist attacks on the Indian army base in Uri, Kashmir, Indian Prime Minister Narendra Modi decided that India would boycott the summit, citing "increasing cross-border terrorist attacks in the region and growing interference in the internal affairs of member states by one country."

Critics called Modi's decision unprecedented because it is the first time that India has boycotted the summit explicitly citing Pakistan's support for terrorist groups as the reason. However, the cancellation of yet another SAARC summit is in itself a mundane affair. Despite the charter requiring its member countries to meet annually, SAARC summits have been cancelled numerous times. While SAARC is 31 years old, this would have been only the 19th summit, and the most recent SAARC summit was held two years ago in 2014.

The significance of Modi's decision lay in its aftermath: Bangladesh, Sri Lanka, Afghanistan, and Bhutan followed suit, also boycotting the summit. This solidarity boycott, which dealt Pakistan a humiliating snub and forced the cancellation of the summit, was discussed in the Indian media as either a far-sighted sidelining of Pakistan in the region or a death blow to an already dysfunctional organization. In reality it is neither. In the long term, Pakistan cannot be sidelined in South Asia, and the boycott, by Bangladesh and Sri Lanka in particular, paradoxically represents an opportunity for India and SAARC.
You can read the entire Op-Ed here.
Manjari Chatterjee Miller works on foreign policy and security issues in international relations with a focus on South and East Asia. She specializes in the foreign policy of rising powers India and China. Her book, Wronged by Empire: Post-Imperial Ideology and Foreign Policy in India and China, argues that the bitter history of colonialism affects the foreign policy behavior of India and China even today. She is interested in ideational influences on foreign policy and conceptions of state security. She is currently working on rising powers and the domestic ideational frameworks that explain their changing status. You can learn more about her here.