Amb. Saj Mendis Speaks to Pardee Students on India's Rise
October 26, 2016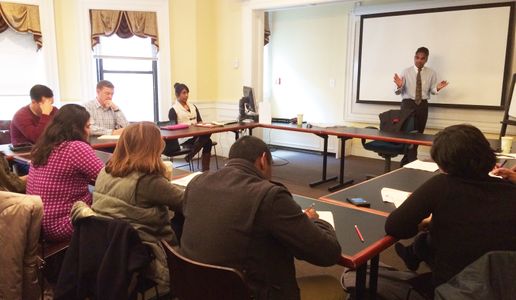 Manjari Chatterjee Miller, Assistant Professor of International Relations at the Frederick S. Pardee School of Global Studies at Boston University, hosted Ambassador Saj U. Mendis, the current Sri Lankan Ambassador to Bahrain, for a discussion in her IR 506 India and the World class on October 26, 2016. 
Amb. Mendis spoke with students in the class about India's rise, and its implications for the South Asian region and the United States-China bilateral relationship.
He also discussed the change in the international perception of India — from poor Third World nation to global player, the fact that India has no choice but to stabilize the South Asian region if it is to play a global role and the role of India's soft power.
Amb. Saj. U. Mendis is a career Foreign Service Office of the Sri Lanka Foreign Service. Before his current assignment as the Sri Lankan Ambassador to Bahrain, he has served as in his country's missions in New Delhi, Singapore and Tokyo. He has also served as Director General for foreign investments, infrastructure and tourism for the Ministry of Economic Development.
Amb. Mendis' lecture was followed by a question and answer session with students.