Kendhammer Discusses Islam and Democracy in Northern Nigeria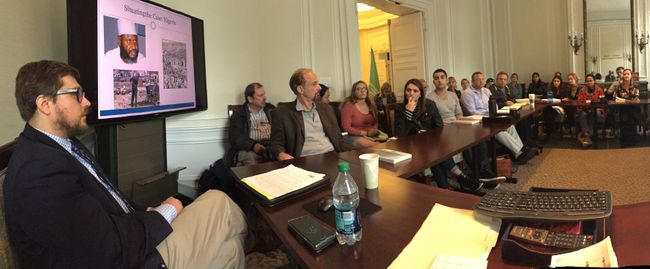 Brandon Kendhammer, Associate Professor of Political Science at Ohio University, gave a talk at the Frederick S. Pardee School of Global Studies at Boston University on September 27, 2016 examining the role of Islam and democracy in law and government in Northern Nigeria.
The discussion was sponsored the Institute on Culture, Religion and World Affairs, the African Studies Center and the Institute for the Study of Muslim Societies and Civilizations.
Kendhammer discussed  how working-class Nigerian Muslims actually talk about democracy and the role of Islamic values and law in government, and what their conversations tell us about the prospects for their coexistence. He also discussed his research and teaching interests which include Nigerian politics, political Islam and ethnic politics.
The discussion also explored the subject of Kendhammer's recent book, Muslims Talking Politics: Islam, Democracy, and Law in Northern Nigeria (University of Chicago Press, 2016),  the emergence of popular demands for the expansion of Islamic law in new Muslim-majority democracies. His most recent work focuses on the perils of ethno-religious powersharing in uncertain African democracies.
You can learn more about Kendhammer here.