African Studies Center Hosts Reception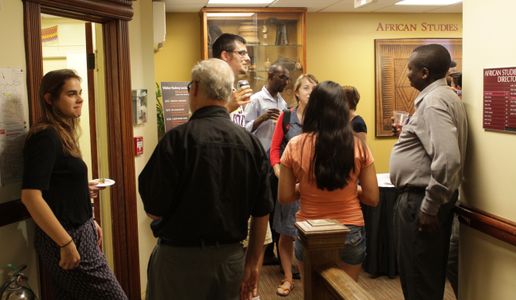 The African Studies Center, an affiliated regional center of the Frederick S. Pardee School of Global Studies at Boston University, hosted a welcome reception for faculty, students and friends on September 22, 2016. 
Tim Longman, Director of the African Studies Center, welcome faculty and students back to the center and took the opportunity to highlight a milestone for the Walter Rodney Seminar, the interdisciplinary lecture series inaugurated in the fall of 1977  that has included presentations by established and incipient scholars in all Africa-related disciplines, including history, anthropology, political science, economics, sociology, public health, literature, visual arts, musicology, religion, Islamic studies, international relations, and public diplomacy.
"This is the 40th anniversary of that series, it's our main vehicle for building an intellectual community, it's an interdisciplinary program," Longman said. "We bring in people from the outside, we have some of our graduate students speak, our professors occasionally speak — it's the one time when the group gathers all together to talk about the issues that are important to this center."
You can find out about upcoming installments in the Walter Rodney Seminar series here.
Founded in 1953, the African Studies Center has provided a strong foundation in African studies to generations of university professors, economists, health workers, government officials, development personnel, diplomats, and numerous others.
Learn more about the African Studies Center here.