Najam Moderates NEIDL Panel on Infectious Disease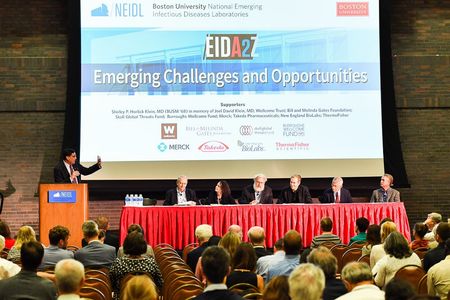 The opening public session of the inaugural symposium of Boston University's National Emerging Infectious Diseases Laboratories (NEIDL) brought together a power panel of experts on the emerging challenges and opportunities in the globalization of infectious disease. Held on Sunday, September 18, 2016, the panel discussion launched the 3-day symposium with a lot of big and bold thinking, on a very major global issue, before a packed Boston University George Sherman Union. The panel discussion was moderated by the Dean of the Pardee School, Dr. Adil Najam. 
The opening session began with a welcome from Boston University President Robert A. Brown, and keynote address by Anthony Fauci, the director of the National Institute of Allergy and Infectious Disease (NIAID), and journalist David Quammen, most recently author of the book Spillover. Both later joined the expert panel moderated by Najam, which also included Trevor Mundel, President of Global Health Programs at the Bill and Melinda Gates Foundation; Prof. George Church of the Harvard Medical School; Nurith Aizenman from National Public Radio (NPR); and Lawrence K. Altman of the New York Times. 
In a far-ranging discussion of big ideas the panel discussed – amongst themselves and with the audience – various emerging challenges and opportunities. The general sense of the discussion was that while the challenges are great and will continue, the ability and potential of science is also great. There is reason, therefore, for constant vigilance and care, but also for some optimism because, as David Quammen put it, "we are smart."
In response to a closing question from Adil Najam, all members of the panel concluded that while the incidence of global infectious disease will continue, the total global deaths will continue to come down over time.
Scientific panels of the inaugural symposium continued on September 19 and 20, 2016. Read a report from BUToday, here.
Dr. Adil Najam is the inaugural dean of the Frederick S. Pardee School of Global Studies. Read more on him here.