Meet the 2016 Incoming Pardee School Students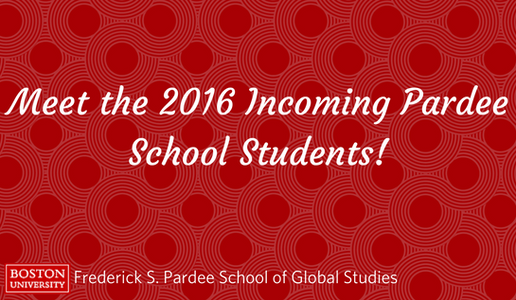 The Frederick S. Pardee School of Global Studies at Boston University is excited to welcome its 2016 incoming classes of both undergraduate and graduate students.
As Pardee School students are settling back into campus life with graduate academic orientation, a welcome barbecue for graduate students and the "Pardee Around the World" undergraduate welcome event we take an in depth look at the 2016 Pardee School incoming graduate and undergraduate classes.
The incoming class of MA candidates is comprised of 47 students who come in with an average GPA of 3.41 (based on GPAs at United States universities). Hailing from 11 countries and five continents, international students make up 43 percent of the incoming Pardee School MA candidates. Countries represented by the incoming graduate students include Bolivia, Brazil, China, Congo, India, Israel, Japan, Mexico, Norway, Pakistan and Switzerland.
The first-year graduate students will have the opportunity to get to know each other further during a team-building event at the Fitchburg Art Museum on September 24, 2016.
There are 115 first-year undergraduate students and 24 undergraduate transfer students. Of the first-year undergraduate students, 23.4 percent are international students hailing from countries  including Oman, Republic of Korea, Belgium, France, Italy, China, North Korea, Mexico, Canada, India, Portugal, Indonesia, Uzbekistan, Ukraine, Taiwan, Spain, Vietnam and Russia.
First-year undergraduate students are currently studying languages including Arabic, Chinese, Spanish, French, German, Hebrew, Hindi-Urdu, Japanese, Russian, Korean and Persian.