Pardee Students Launch Campaign for Refugee Tech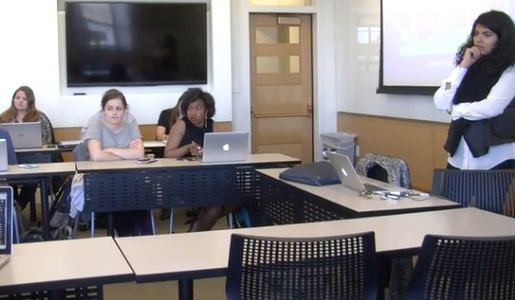 A group of students at the Frederick S. Pardee School of Global Studies at Boston University have turned their coursework into an effort to help refugees in Jordan access aid and other resources through the creation of an app, called Urban Refuge, which aims to connect refugees with resources through a simple mapping tool.
On August 10, 2016 they launched a BU Crowdfunding campaign to support the app's launch this fall.
The effort began in the IR 500 Forced Migration and Human Trafficking class taught by Assistant Professor of International Relations Noora Lori, bringing together a group of female undergraduate and graduate students with a variety of backgrounds who shared a passion for innovating solutions to the current refugee crisis as well as future crises. Lori founded the Pardee School Initiative on Forced Migration and Human Trafficking in 2015 to foster similar educational initiatives.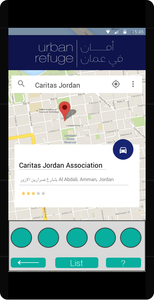 Taking an idea from a Pardee School classroom to the real world, the group created the Urban Refugee App, an aid locator designed to geocode hundreds of international and domestic organizations serving refugees in Jordan including clinics, schools and aid distribution points.
Two-thirds of refugees worldwide live outside of camps, and around 80 percent of the 650,000 refugees in Jordan fall under this category of "urban refugees." Living outside of refugee camps makes it much more difficult for urban refugees to access services and information even though urban refugees in the Syrian crisis have widespread access to smartphones and data plans.
Ellie Hitt (Pardee '17) said when registering for the course she never envisioned the potential difference she could make in the ongoing refugee crisis.
"When I signed up for the class on Forced Migration and Human Trafficking, I could have never imagined that a class would have such an impact on my undergraduate career," Hitt said. "It's a true inspiration to work alongside such strong, intelligent women who are truly dedicated to problem solving and willing to work outside of class hours. Urban Refuge is a lesson in empowerment for women, for students and for Syrian refugees."
While the Urban Refugee App will pilot in Amman, Jordan, the group plans to launch versions worldwide — including in Boston. The group is currently seeking to raise $15,000 through BU Crowdfunding to geocode the remaining aid locations in Amman, finish the technology for the app and conduct outreach to refugees.