Bacevich Gives Talk on Post-Cold War Foreign Policy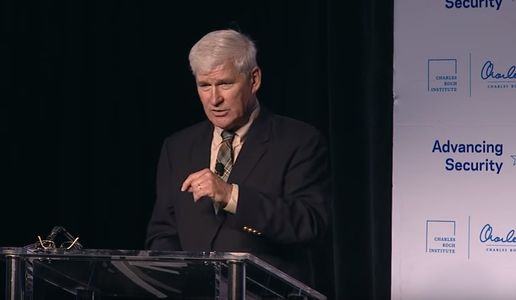 Andrew Bacevich, Professor Emeritus of International Relations and History at the Frederick S. Pardee School of Global Studies, gave a talk surveying the recent history of U.S. military engagement in the world — assessing whether it has made America safer.
Bacevich's talk, entitled "Has U.S. Foreign Policy Since the End of the Cold War Made America Safer?" was given on May 18, 2016 at a conference hosted by the Charles Koch Institute entitled "Advancing American Security: The Future of U.S. Foreign Policy."
You can watch Bacevich's entire talk below:
Bacevich further explores the subject in his recently released book, America's War for the Greater Middle East: A Military History. In the book, Bacevich, a graduate of the U.S. Military Academy who taught at West Point and Johns Hopkins before joining the Boston University faculty, provides a searing reassessment of U.S. military policy in the Middle East over the past four decades.
Andrew Bacevich's essays and reviews have appeared in a variety of scholarly and general interest publications including The Wilson Quarterly, The National Interest, Foreign Affairs,Foreign Policy, The Nation, and The New Republic. His op-eds have appeared in the New York Times, Washington Post, Wall Street Journal, Financial Times, Boston Globe, and Los Angeles Times, among other newspapers. In 2004, Bacevich was a Berlin Prize Fellow at the American Academy in Berlin. You can read more about him here.