Hefner Speaks at Conference in Singapore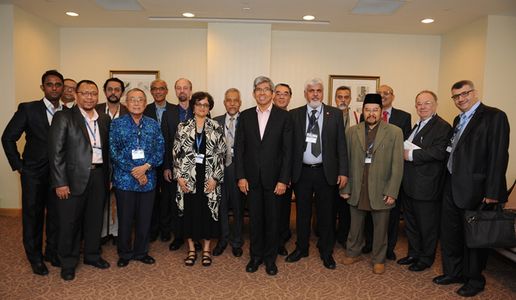 Robert Hefner, Professor of Anthropology and International Relations at the Frederick S. Pardee School of Global Studies at Boston University and Director of the Institute on Culture, Religion and World Affairs, an affiliated center of the Pardee School, recently spoke at an international conference in Singapore on Islam in the modern world.
The conference, entitled "Islam in the Contemporary World," was organized by the Ministry of Foreign Affairs of the Republic of Singapore and the S. Rajaratnam School of International Studies at Nanyang Technological University. The event focused on the challenge of intellectual renewal and political reform in Muslim countries in the face of radical challenges, including those posed by the rise of ISIS.
Hefner's presentation was entitled "The Best and the Most Challenging of Times: Islamic Education and the New Muslim Intellectualism," and focused on the untrumpeted but powerfully positive reforms to Islamic education taking place in most countries of the Muslim world.
While in Singapore, Hefner was also interviewed on Channel News Asia where he discussed lessons from the West on terrorism.
Robert Hefner has directed 19 research projects and organized 18 international conferences, and authored or edited nineteen books.  He is former president of the Association for Asian Studies.  At CURA, he has directed the program on Islam and civil society since 1991; coordinated interdisciplinary research and public policy programs on religion, pluralism, and world affairs; and is currently involved in two research projects: "The New Western Plurality and Civic Coexistence: Muslims, Catholics, and Secularists in North America and Western Europe"; and "Sharia Transitions: Islamic Law and Ethical Plurality in the Contemporary World." You can read more about him here.