Najam Speaks at Harvard Forum on Democracy in South Asia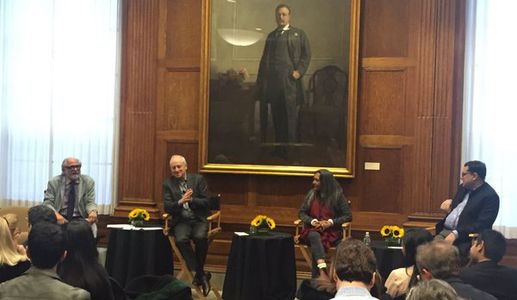 Adil Najam, Dean of the Frederick S. Pardee School of Global Studies, spoke at the Harvard University South Asia Institute Annual Symposium, which included several panels on the topic of democracy across South Asia.
Najam was part of a panel at the symposium, entitled "Who Speaks for Democracy in South Asia?" that also included screenwriter, director and producer Deepa Mehta and Harvard Professor Michael Sandel. The panel was moderated by Harvard Professor and Director of the Mahindra Humanities Center Homi Bhabha.
Najam highlighted South Asia's youth as the main voice for democracy in the region moving forward, specifically through social media platforms such as Twitter.
In addition, Najam is the lead author of the forthcoming Pakistan National Human Development Report on Youth.
Founded in 2003 to further Harvard University's engagement with South Asia, SAI is a university-wide research institute at Harvard that engages faculty members, students, and in region institutions through interdisciplinary programs to disseminate knowledge, build capacity, inform policy, and engage in advocacy on issues that are shaping South Asia today.
Dr. Adil Najam (عادل نجم) is the inaugural Dean of the Frederick S. Pardee School of Global Studies at Boston University and a Professor of International Relations and of Earth and Environment. Earlier, Prof. Adil Najam served as Vice Chancellor of the Lahore University of Management Sciences (LUMS) in Lahore, Pakistan and as the Director of the Boston University Pardee Center for the Study of the Longer-Range Future. In addition to Boston University, Prof. Najam has taught at MIT and at the Fletcher School of Law and Diplomacy, Tufts University. His research focuses on issues of global public policy, especially those related to global climate change, South Asia, Muslim countries, environment and development, and human development. You can read more about him here.