ASC Offers Course for Public Health Students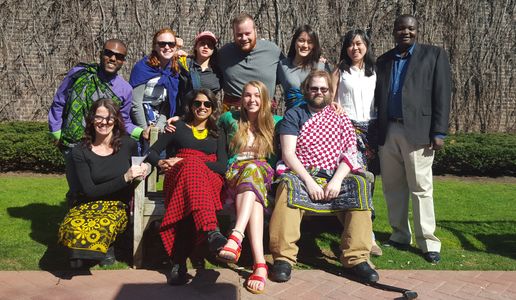 Boston University's African Studies Center (ASC), an affiliated center of the Frederick S. Pardee School of Global Studies, piloted a Swahili language course designed for Masters of Public Health candidates during the Spring 2016 semester, and students discussed the benefits of the course as well as the close the ties between the School of Public Health and the African Studies Center.
The class, Swahili With a Health Focus (CAS LE491), emphasizes Swahili language useful in conducting fieldwork and surveys, as well as cultural specific notions of health. 
Jennifer Beard, Assistant Professor of Global Health, took the class this semester, and said the African Studies Center provides a link for faculty and students at the Medical Campus to colleagues on the Charles River Campus with similar research areas.
"In the Department of Global Health, almost all faculty and many staff and students have worked and/or lived in one or more African countries and we have active research projects there at all times," Beard said. "But, because we are on the Medical Campus, we don't often have contact with all the people around Boston University also working there. The African Studies Center creates links to Boston University colleagues we might never meet otherwise, even though we share similar interests and passions."
Peter Quella, Assistant Director of the African Studies Center, echoed these sentiments, saying School of Public Health researchers account for a large percentage of Boston University's researchers in Africa.
"African Studies recognizes that School of Public Health faculty make up nearly one third of our affiliates on campus—and they represent Boston University's most active researchers on the African continent," Quella said. "Plus, they have great programming to get their students to the continent too. It didn't take much for us to recognize this natural synergy between our desire to teach African languages and African studies courses and this very active and interested group of scholars. In fact, since I've arrived at Boston University, School of Public Health students have actively encouraged us to pursue a better way to work together. I will admit that their energy and zeal for educational opportunities at Boston University were the driving force for developing the relationship."
Beard said the course is especially helpful for Masters candidates doing field work in Africa — who will now arrive at their research locations having already developed significant language skills. Five students in this semester's course will be travelling to Tanzania in May as part of the East Africa Field Practice Program, according to Beard, while other students in the course have either already spent time in East Africa or are preparing for a future trip.
"In particular, the students travelling in May will have language skills they can use as soon as they arrive to socialize with people in the community as well as design and conduct their research," Beard said. "Of course, they only have one semester of practice, but they now have a strong foundation to build on and the confidence to at least start conversations in Swahili and laugh at their mistakes. I am confident that their ability to speak and understand will develop rapidly once they are immersed in their day-to-day life in Tanzania. I hope that I can say the same for my own abilities by the end of June."
Rupal Shah, a Boston University SPH alumni, assisted with the Swahili With a Health Focus course by researching teaching materials and holding conversation sessions with students outside of class. Shah, who was born in Tanzania and researched there as part of her experience through the School of Public Health, said the course helps educate students on more than just language skills.
"This course was unique, in that students had the chance to participate in a language lab once a week to practice conversational Swahili," Shah said. "During the conversations many cultural questions about East Africa came up which allowed a further discussion to take place regarding the importance of communication in the field. Not only do the students have a basic grasp of the language but they also have a better understanding of communicating with respect to the local culture."
With a geographical divide between the School of Public Health and African Studies Center, Beard said it is even more important for the Swahili With a Health Focus course to continue to serve as a way to bridge the gap between the two programs.
"The crosstown divide between our campuses does pose a barrier," Beard said. "That's why having the Swahili Course with a Health Focus taught here at the School of Public Health twice a week has been so great. I am taking the class along with the students and when I see the delight and excitement about their upcoming travel that the course has been stirring up since January, I am convinced that we need to keep this class going and increase enrollment in coming semesters."