Woodward Talks National Security at University of New Haven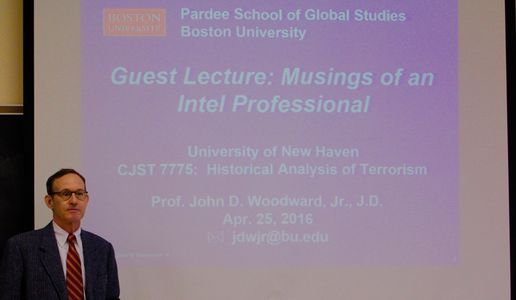 John D. Woodward, Jr., Professor of the Practice of International Relations at the Frederick S. Pardee School of Global Studies, gave a guest lecture to faculty and students at the University of New Haven on April 25, 2016.
Woodward spoke on national security and intelligence, focusing on the use of biometric technology to help counterterrorism efforts overseas.  Drawing on his experiences as the Director of the Department of Defense Biometrics Management Office during the Iraq War, he  explained how biometrics like computerized fingerprinting contributed to improved U.S. counterterrorism and force protection.
"The use of biometrics made it feasible for the US military to identify threats quickly and accurately," Woodward said. "Moreover, the biometric data collected was shared with other US government agencies, like the FBI."
Woodward was hosted by Professor William L. Tafoya, the Director of Research at the Henry C. Lee College of Criminal Justice and Forensic Sciences at the University of New Haven.  Woodward spoke to students in Dr. Tafoya's "Historical Analysis of Terrorism" graduate course.
In sponsoring the visit, Dr. Tafoya explained that "Universities should not have a 'wall' (or cone of silence for SNL fans) like the one that bureaucratically existed between U.S. intelligence and law enforcement pre-9/11 and prevented information exchange. Professor Woodward graciously shared his experience in migrating from federal service to Boston University and has now shared with us at the University of New Haven, reflecting the best of collegiality and cooperation."
John D. Woodward, Jr. is a former Central Intelligence Agency (CIA) officer. During his twenty-year CIA career, John served as an operations officer in the Clandestine Service and as a technical intelligence officer in the Directorate of Science and Technology, with assignments in Washington D.C., East Asia, Africa, South Asia, and the Middle East.