Panel: Getting Published in Journals and Mass Media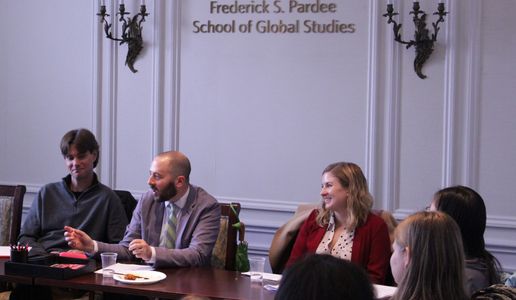 A panel at the Frederick S. Pardee School of Global Studies at Boston University discussed how students can start the process of being published in academic journals and the mainstream media.
The panel, sponsored by the Institute for the Study of Muslim Societies and Civilizations, was held on March 28, 2016 and included Associate Professor of International Relations Henrik Selin, Assistant Professor of International Relations Jeremy Menchik and MA candidate Vicky Kelberer. 
Menchik stressed the importance of using your abstract as a way to gauge whether you have successfully made your argument in a clear and concise manner that will translate to your intended publication.
"One way to assess whether something is publishable is the abstract–it should have a clear research question, a simple answer to the question, and should demonstrate how your answer differs from the existing literature," Menchik said. "If your abstract isn't clear, your paper probably isn't clear either."
Selin said two of the most important things to consider when writing for publication is whether you are putting forward a unique argument or view and what publication is the right venue for your piece of writing.
"As you try to figure out what it is you want to write or you want to communicate, go through the process of writing a good text, but also figure out where does it fit," Selin said. "For you to be published you actually have to say something new. You have to actually add something."
Kelberer advised the student audience to read and write as often as possible, and that falling out of the habit of writing shows in your finished product.
"Whether it's a journal or short stories or a novel or articles or OpEds, or you're just really mad about the news that day–write about it," Kelberer said. "Writing is the hardest skill to hone, and I've seen from a lot of my friends who graduated at the same time as me and now are going back to grad school it's the most difficult thing to pick back up."