Pardee Students Take Academic Trip to Cuba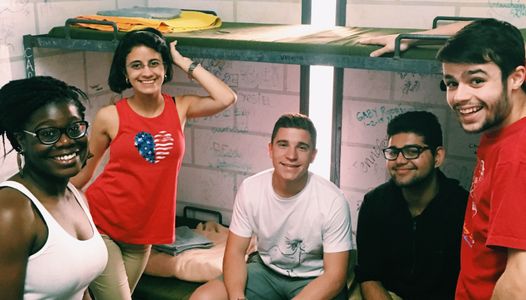 Students from the Frederick S. Pardee School of Global Studies at Boston University, along with BU students from other schools, took a recent academic trip to Cuba to learn about the cultural and historical aspects of Cuba's foreign policy, with a particular emphasis on Cuba-Africa and Cuba-China relations.
The trip included a visit to Casa de Africa for musical performances, a tour of the Museum of the Revolution, a walking tour of Old Havana, discussions with Cubans who fought against apartheid and more.
Students also sat in on lectures by Boston University faculty leaders who went on the trip including Julie Klinger, Assistant Professor of International Relations at the Pardee School, Linda Heywood, Professor of African American Studies and History, and John Thornton, Professor of African American Studies and History.
Klinger said the trip was aimed at providing students with a better sense of the history and culture of Cuba, but also of the ongoing changes to Cuban culture and society that have accompanied the normalization of relations with the United States.
"I hope that the students came away with a much more nuanced sense of the unique history and culture of Cuba," Klinger said. "Many were inspired by the Cuban achievements in terms of cultural, integration, health care provision, and educational sectors and many also shared deep reflections on the significance of the unfolding societal transformations."
Ibrahim Rashid (Pardee '19) went on the trip and said since attending Nelson Mandela's 2013 memorial service where U.S. President Barack Obama and Cuban President Raul Castro shook hands for the first time, he wanted to travel to Cuba to experience the historic transition the country is currently undergoing.
"I distinctly remember my history teacher describing Cuba as a 'relic of time,' that because of the Embargo, the island was stuck in the past," Rashid said. "When I found out that BU was organizing a trip, I immediately signed up because I knew that Cuba was undergoing a historic transition; that I wanted to see Cuba before it made the transition from antiquity to the modern world before time ran out."
Klinger said the group encountered several other groups from American universities while in Cuba, a sign that academic trips between the two countries are becoming more commonplace.
"As we prepare tomorrow's leaders, many of whom aspire to work in government and international affairs, it is crucial that they have a deeper sense of the legacies not just of the U.S. policy toward Cuba, but of Cuba's policies toward other developing and developed countries," Klinger said. "Students from the U.S. and Cuba have much to learn from each other, and I am proud that BU is at the forefront of such pathbreaking engagements."