Menchik's Book Launches in Jakarta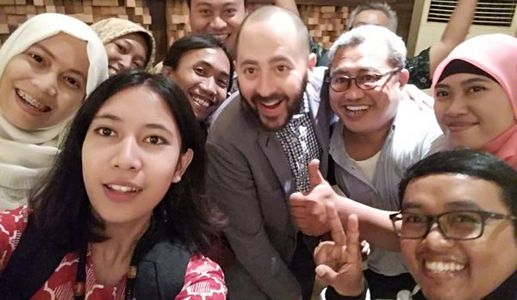 Jeremy Menchik, Assistant Professor in the Fredrick S. Pardee School of Global Studies at Boston University, gave a series of lectures and interviews in Jakarta, Indonesia for the launch of his book, Islam and Democracy in Indonesia: Tolerance without Liberalism.
Menchik gave lectures at the Maarif Institute for Culture and Humanity, the Centre for Strategic and International Studies, and the Center for the Studies of Religion and Democracy at Paramadina University. His talks and book were covered in the newspapers Republika, Kompas, and the Jakarta Post.
Menchik spoke about how Indonesia's mass Islamic organizations sustain the country's reputation for tolerance amid diversity. His book, based on two years of field research, challenges the notion that liberal modes of tolerance are necessary for democratization, and suggests that Indonesia's Muslim leaders favor a democracy in which individual rights and group-differentiated rights converge within a system of legal pluralism, a vision at odds with American-style secular government but common in Africa, Asia and Eastern Europe.
Jeremy Menchik conducts research and teaches classes on religion and world politics. His publications include a forthcoming article in the Journal of Comparative Politics and an Op-Ed in USA Today. At Boston University he is a member of the graduate faculty of political science and religious studies, and coordinates the MA program in IR and Religion. Learn more about him here.