FBI Expert Speaks to Pardee Students
February 11, 2016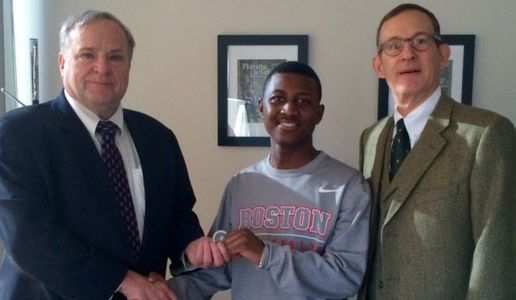 A former Boston Police and Federal Bureau of Investigation official spoke to students at the  Frederick S. Pardee School of Global Studies at Boston University about how FBI databases are used to help authorities identify threats.
William M. Casey, a former Deputy Superintendent of the Boston Police Department and former FBI official, spoke to students at the Pardee School on February 11, 2016 in "Intelligence and Homeland Security," a graduate course taught by Professor John Woodward.
Drawing on his experiences, Mr. Casey described for the students how the FBI's various databases, managed by the FBI's Criminal Justice Information Services Division, are used to help law-enforcement identify criminal threats.
Casey also explained how the many federal, state, tribal and local stakeholders who access these services conduct policy decisions and oversight.  He also shared anecdotes from his police work in Boston and answered questions from the students.
Casey presented an FBI challenge coin to Jamal Adan (Pardee '17).