Najam in The News: Youth in an Age of Terror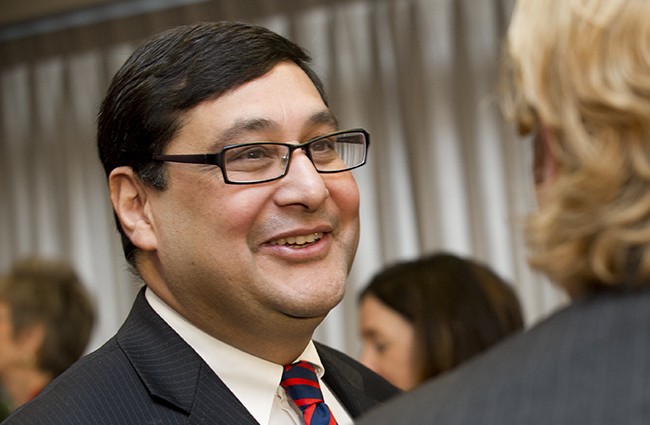 Adil Najam, Dean of the Frederick S. Pardee School of Global Studies at Boston University, said that he had great hopes for the youth of Pakistan, despite their growing up in the shadow of terror.
Najam talked about his experiences visiting a boys' college just days after the Peshawar attacks in a Jan. 23 Op-Ed in The News, a Pakistan publication, entitled "When the Young Cannot Be Young." His impressions of those events colored his perspective on the Bacha Khan University attacks earlier this month.
From the text of the Op-Ed:
A little more than a year ago and less than a week after the horrific attack on Peshawar's Army Public School (APS), I was in Charsadda. At the New Muslim College, Charsadda, some 10 kilometres from the Bacha Khan University which was the scene of an equally horrific attack three days ago.

That crisp December morning in 2014, crammed into a long thin classroom, was made memorable by the thirty or so young college students I spent an hour and a half talking to. We talked about Pakistan. About what was happening in Pakistan. We talked about them. Their hopes. Their fears. Yes, we talked about the APS attack too. But, most of all, we talked about what it means to be young in Pakistan.

Actually, they talked. I listened. But more on that later.
You can read the entire Op-Ed here.
Before becoming Dean of the Pardee School, Najam served as Vice Chancellor of the Lahore University of Management Sciences (LUMS) in Lahore, Pakistan and as the Director of the Boston University Pardee Center for the Study of the Longer-Range Future. In addition to Boston University, Prof. Najam has taught at MIT and at the Fletcher School of Law and Diplomacy, Tufts University. His research focuses on issues of global public policy, especially those related to global climate change, South Asia, Muslim countries, environment and development, and human development. Learn more about him here.