Litvin in LA Review of Books: Perspectives on Refugees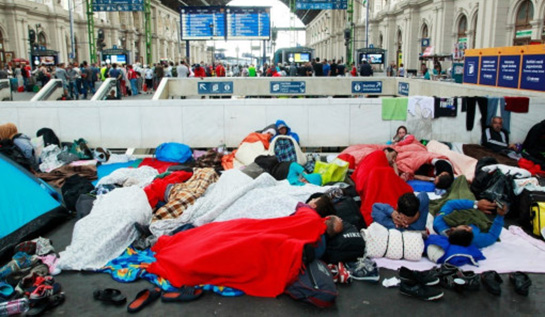 Margaret Litvin, Director of the Middle East and North African Studies Program at the Frederick S. Pardee School of Global Studies at Boston University, said that her perspective on the Syrian refugee crisis was informed by her family's background as Soviet Jews who fled as refugees.
Litvin made the comparison in a Dec. 1 Op-Ed written for Marginalia, a channel on the LA Review of Books. It was entitled "An Ex-Soviet Jew Looks at Syrian Refugees and America."
From the text of the Op-Ed:
If you embrace neither religion nor nationalism, you aren't left many holidays to celebrate. Your own birthdays; New Year's Eve. (My Soviet immigrant family didn't know about solstice gatherings yet.) But tough-minded and hypocrisy-averse though we tried to be, we made room for two: Passover in the spring, Thanksgiving in the fall. These occasions were functionally identical. Both celebrated emigration, immigration, and their results. We were slaves, now we are free people. With a mighty hand and an outstretched arm, God (or maybe the U.S. Congress) had intervened to get us the hell out of the USSR. Pass the cranberry sauce – but first, cue the large family gathering, table full of smoked fish and little Russian salads, and my grandfathers' solemn toasts to the country that had taken us in and made all this possible.

We weren't the first to think of conflating the Pilgrims with the mythical Exodus and ourselves with both. The Promised Land imagery was heavy throughout New England, where I grew up: English settlers had seen "New Canaan" in Connecticut, "Providence" in Rhode Island. Early waves of Jewish migrants from Europe, too, had identified America as "The Promised Land." A century later, the 1970s-80s American movement to extricate Soviet Jews shouted "Let my people go!" borrowing the language of the Exodus story. One artifact of our first American years (we were resettled in Montgomery, Alabama, in September 1979, and welcomed by its warm and generous Jewish community) is a children's Haggadah that urged us to put an extra Hillel sandwich on the seder plate, "in honor of the Soviet Jews, who are not free, as we are, to celebrate Passover tonight."
You can read the entire Op-Ed here.
Margaret Litvin writes about modern Arabic drama and political culture. Her book, Hamlet's Arab Journey: Shakespeare's Prince and Nasser's Ghost (Princeton, 2011), examines the many reworkings of Shakespeare's Hamlet in postcolonial Egypt, Syria, and Iraq. Learn more about her here.