Najam on VOA on Pakistani Diaspora in USA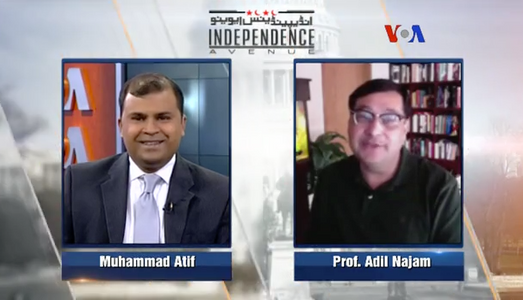 Voice of America (VOA) television program (Urdu language) Independence Avenue (October 30, 2015) interviewed Prof. Adil Najam, Dean of the Frederick S. Pardee School of Global Studies at Boston University, on his research on the Pakistani Diaspora.
In commenting on a new study on the subject, Najam talked about the findings from his 2007 book, Portrait of a Giving Community: Philanthropy by the Pakistani-American Diaspora (Harvard University Press). In particular, he talked about the conditions which make the Pakistan (and other South Asian) diasporas in the US more affluent and better educated than many other expatriate communities, and the average for the country.
Prof. Najam is also co-editor, with Prof. Susan Eckstein (also of the Pardee School) on How Immigrants Impact their Homelands (2013, Duke University Press). Dean Adil Najam is an expert on South Asia politics and also on global environmental policy, he has also written extensively on the Pakistani diaspora in the United States. More on Dean Najam here.
Video of the full interview available here.