Call for Research Grant Applicants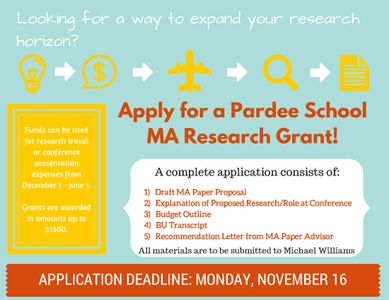 Attention students – the Frederick S. Pardee School of Global Studies at Boston University has announced the second annual call for applicants for its Student Research Travel Grant program. 
The Student Research Travel Grant program is the flagship opportunity for institutionally-supported student research offered by the Pardee School. Grants of up to $1,500 are awarded to students in any Pardee School MA program for research abroad that supports self-directed academic initiatives, including but not limited to MA Papers and Capstone Projects.
Funds can be used for research travel between Dec. 1, 2015 and June 1, 2016. Applications are due Nov. 16, 2015 and consist of a research proposal and explanation of the intended purpose of the travel, a proposed budget, BU transcript, and letter of recommendation from your advisor.
The first Student Research Travel Grants were awarded in December 2014 to five students – Daniel Conroy, Jill Richardson, Karla Leon Espinoza, Kenneth Rayner and Sarah Dorman. Their research destinations and aims ranged from studying maritime issues in New Delhi, India, to studying Internet access in Sub-Saharan Africa and BRICs financial institutions in Washington, D. C.
"My trip widened my international perspectives well beyond anything I had experienced before and proved to be the perfect capstone to my education at Boston University," said Daniel Conroy of his grant opportunity.
For more information on the Student Research Travel Grant Program, contact graduate student advisor Michael Williams.