Pineda Talks Hispanic Heritage at Prison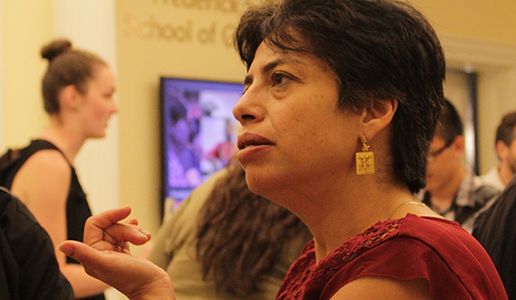 Adela Pineda, Director of the Latin American Studies Program at the Frederick S. Pardee School of Global Studies at Boston University, was invited to speak as part of a slate of Hispanic Heritage Month education events at FMC-Devens, a Massachusetts federal men's prison.
"I went because I think our area studies should reach out to communities outside the academic setting," Pineda said. "The experience of speaking at a prison was very impressive. I went inside the prison and saw the facilities, including recreation areas and dorm-type facilities. It felt strange to see so many prisoners – some were in wheel chairs, others very young, like our college students."
Pineda's invitation was extended by Osvaldo Báez, the Hispanic Employment Program Manager for the prison.
"As a Hispanic, born and raised in Dorado, Puerto Rico and a social worker, I am very proud of my culture," said Báez in his initial communication with Pineda. "We are organizing a Lunch & Learn series, where guests will speak about their culture and the program/agency they represent. We also provide a variety of food from our Hispanic culture."
Hispanic Heritage Month, which runs from Sept. 15 to Oct. 15, was first proclaimed in 1968. Pineda spoke on Oct. 7.
"I discussed the importance of the Hispanic community in the US – there are 54 million Hispanics in the U.S., representing 17 percent of the U.S. population," Pineda said. "I talked about my own experience coming to the US and becoming an American citizen. I stressed the importance of community beyond the connection of our relation to a Nation-State: its members perception of the vitality of its culture, and  how important it is for individuals to have their own sense of community and of belonging."
Pineda's research interests focus on nineteenth- and twentieth-century Spanish American literature, culture, and film and on the relationship between politics and culture. Learn more about her here.