Gallagher Publishes Research on TPP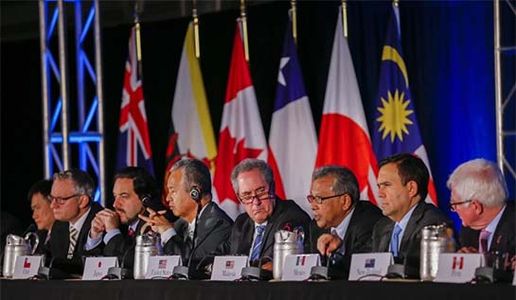 Kevin Gallagher, Professor of Global Development Policy at the Frederick S. Pardee School of Global Studies at Boston University, published research on the impacts of the proposed Trans-Pacific Partnership (TPP) trade agreement, currently under debate in the U. S. and 11 other nations in the Pacific Rim.
Gallagher is a co-writer of the article "Financial Stability and the Trans-Pacific Partnership: Lessons from Chile and Malaysia," along with authors Ricardo Ffrench-Davis, Mah-Hui Lim and Katherine Soverel. The article was published in Global Policy, a leading academic journal in geopolitical studies, in September 2015 edition, Volume 6, Issue 3. It was released digitally on Oct. 6. 
From the abstract of the article:
There is growing recognition that nations may need to deploy cross-border financial regulations to prevent and mitigate financial crises. Indeed, in December 2012 the International Monetary Fund (IMF) agreed on a new 'institutional view' that notes how the IMF will begin to recommend that nations deploy cross-border financial regulations in the future. However, many nations have become party to global, regional and bilateral trade and investment treaties that may restrict their ability to deploy such regulations effectively. This article analyzes the cases of two countries currently in negotiation over a Trans-Pacific Partnership Agreement (TPP): Chile and Malaysia. This article examines the extent to which each nation has deployed cross-border financial regulations in the past, and the extent to which they have negotiated the policy space for such regulations in its trade and investment treaties. Finally, this article analyzes the degree to which such measures would be permitted if the TPP's investment provisions looked like the model bilateral investment treaty of the U. S. 
The entire article is available for free download online. Read the article here.
Gallagher further brought his expertise on the impacts of the TPP to the media. On Oct. 6, Gallagher was quoted in an article on the topic in the Washington Post entitled "Pacific Trade Deal Shows Latin America's New Ideological Divide." It examines predicted resistance to the TPP in Chile, Peru and Mexico.
From the text of the article:
"These countries had a tough time getting their respective trade deals passed at home, and will face stiff difficulties again as they have had to sign on to deeper rules for intellectual property, pharmaceuticals and finance," said Kevin Gallagher, a Latin America trade expert at Boston University's Frederick S. Pardee School of Global Studies.

As a matter of symbolism, though, the TPP signing matters for another reason: It solidifies the emerging ideological split in a region where the old left vs. right divide has grown more and more meaningless.
You can read the entire article here.
Gallagher is co-director of the Global Economic Governance Initiative and the Global Development Policy Program. He is the author of Ruling Capital: Emerging Markets and the Reregulation of Cross-Border Finance. Learn more about him here.